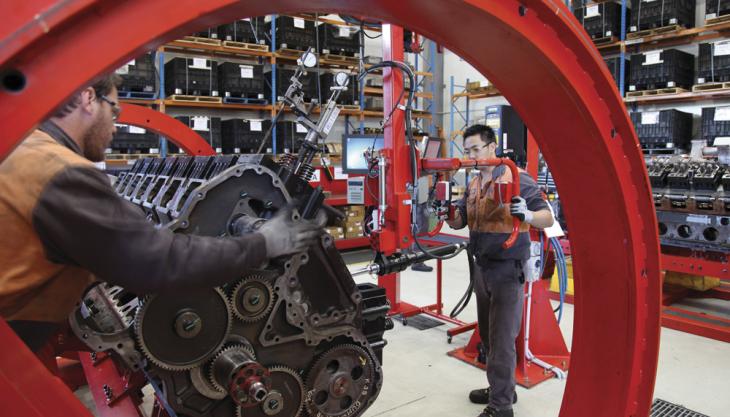 Cummins Inc. have announced plans to increase high-horsepower engine remanufacturing capacity by 100% to meet demand for a rapidly expanding population of equipment powered by their QSK and K-Series engines. Cummins Distribution Business will double total high horsepower rebuild capacity to around 7,000 units per year by 2016, compared with 3,500 units per year in 2011.
Spanning the 500hp to 3,500hp range (373–2,610kW), Cummins QSK and K-Series engines are designed with inherent capability for multiple-life operation and are often capable of achieving as many as four rebuilds. The engine rebuild process ensures that the equipment operator receives a rebuilt engine with 'as-new' standards of reliability and performance.
A global network of highly specialized rebuild facilities are located in areas aligned with high populations of Cummins-powered haulers, loaders, excavators and other mining equipment. The investment programme will establish a number of additional rebuild facilities in new locations, as well as expand many of the existing facilities. This follows a major expansion in capacity in progress since 2008, when annual capacity stood at 1,600 rebuild units. By 2016, rebuild capability will be available at some 40 locations, including Cummins Master Rebuild Centers (MRCs), regional hubs and localized Cummins Rebuild Workshops.
'We are doubling our current high-horsepower remanufacturing capacity to 7,000 units per year by 2016 to stay ahead of customer demand for engine rebuilds, due to a significant increase in the population of Cummins-powered mining equipment,' said Pamela Carter, president of Cummins Distribution Business. 'The certified engine rebuild process is a key pillar of Cummins customer support, helping operators reduce the total life-cycle cost of their engines and achieve the lowest possible cost per tonne of material extracted.'
The capacity expansion will involve a phased ramp-up over the next four years, building on the capabilities, tools and processes already in place. The programme is intended to serve mining customers better, as well as improve Cummins return on investment and facility utilization as the rebuild volume increases.
Cummins Master Rebuild Centers work to a 12-month rolling forecast, using data such as engine volume in service, engine type, mine site location, engine operating hours and projected rebuild date. Based on duty-cycle analysis, the Cummins distributor will work closely with the equipment operator to schedule the projected engine rebuild. This approach will help the customer to plan ahead and minimize equipment downtime, with the option of using readily available rebuilt 'swing support' engines if required.
MRCs are equipped to provide a certified rebuild or tailor a rebuild to meet customer needs. The certified rebuild involves a 600-step process involving teardown, cleaning, evaluation, component and engine assembly, dyno testing, painting and final inspection. Remanufacturing quality standards at the MRCs are equivalent to the 'factory' standards applied to the manufacturing of a new Cummins engine.