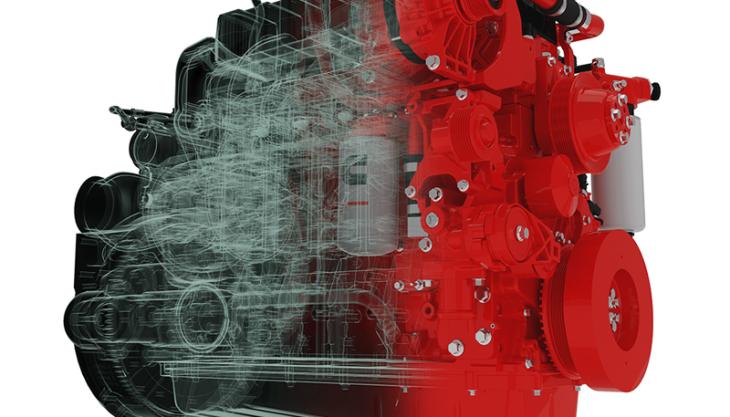 Latest generation of six-cylinder engines to feature in wide range of machines at ConExpo 2014
CUMMINS Inc. have started production of a new six-cylinder engine range that meets the US EPA Tier 4 Final (EU Stage IV) emissions regulations. Production of 190hp to 675hp (142–503kW) engines will increase during the course of the year as construction equipment manufacturers introduce new machines ready to meet the near-zero emissions standards that came into effect 1 January 2014.
The new-generation Cummins engines, ranging from 6.7-litre to 15-litre models, will be featured in a wide range of Tier 4 Final construction machines, material-handling equipment, power packs and cranes set to debut at ConExpo 2014.
The construction equipment on show will highlight how Tier 4 Final engines provide the ability to enhance machine performance; not just by delivering an ultra-clean operation, but with faster cycle times for increased productivity and better fuel economy for reduced operating costs.
'ConExpo takes place at an ideal time to showcase our Tier 4 Final technology with the capability to significantly enhance the performance of equipment,' said Hugh Foden, executive director of Cummins off-highway business.
'By making an early start with Tier 4 Final development, we were able to undertake our largest ever field test and OEM installation programme, extending to more than 70 machines operating under the most demanding duty cycles and challenging geographies, including high altitude, high humidity, and extreme heat and cold.
'As a result, our field testing has validated that the Tier 4 Final engines achieve the same impressive levels of uptime availability and reliability as experienced by users of our proven Tier 4 Interim and Tier 3 engines,' Mr Foden added.
Cummins' newest QSB6.7 and QSL9 engines are being manufactured at the company's Rocky Mount plant in the US, Darlington plant in the UK and Oyama plant in Japan. QSX15 engine is being built at its Jamestown plant in the US, while the early production version of the all-new QSG12 engine is available for OEM installation work.
Field test work is under way for Cummins' four-cylinder engine range, with production of the QSF3.8 and QSB4.5 on schedule for January 2015, aligning with the emissions effect date for engines rated 75hp to 173hp (56–129kW). During 2014, production volumes of a compact QSF2.8 model will be ramped up to meet the need for applications below 75hp (56kW).
Cummins will exhibit a full line-up of engine products (Tier 4 Final/Stage IV) at ConExpo 2014, as well displaying some of the first Tier 4 Final power packs in the industry, together with a power rental trailer.