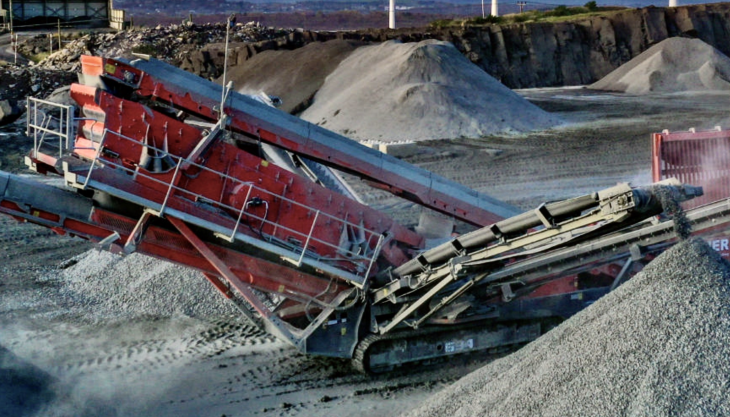 Goathill Quarry takes delivery of the first Terex Finlay 694+ Hybrid screener in Scotland
FIFE-based quarried and recycled aggregate specialists Collier Quarrying and Recycling Ltd have invested in the first Terex Finlay 694+ Hybrid screener in Scotland, as they continue to switch to electric-powered machinery.
Established in 2007 and operating from their 117-acre base at Goathill Quarry, near Cowdenbeath, since 2010, Collier have built a strong reputation throughout Scotland's Central Belt for providing high-quality aggregate products and services.
Thanks to the particularly high PSV of their quarried stone, aggregate from Goathill has become a popular choice for road dressings throughout Scotland and even as far south as the Midlands.
However, the downside to the type of material extracted at Goathill is that it can be too tough to process for many of the machines available on the market, as the team have found out over the years.
Such challenges have made Collier take a different approach to many of their competitors, something which is evident in the equipment they utilize. In 2013, the forward-thinking company invested in a 1.5MW wind turbine and began to switch to electric- or hybrid-powered machinery wherever possible.
Utilizing just some of the energy generated by their huge wind turbine to power as much of their processing equipment as possible became the natural choice, and one that led Collier to their latest purchase of a Terex Finlay 694+ Hybrid inclined screener, supplied by Molson Finlay Scotland.
The 694+ Hybrid sits in front of an electric-powered drive QMS B4 cone crusher which features a 4ft diameter mantle. Despite the crusher's vast capacity, Collier say the 694+ is more than capable of meeting the throughput required, processing up to 15,000 tonnes per day of saleable products, including 75-40mm, 40-20mm, 20-5mm and dust.
The Terex Finlay 694+ Hybrid inclined screen offers operators the flexibility to power the plant either via an electrical connection or in diesel/hydraulic configuration. The plant features a triple-deck screen configuration providing three full-sized 6.1m x 1.53m (20ft x 5ft) screens.
An innovative hydraulically folded fourth (oversize-plus) conveyor allows simple adjustment with variable tilt and slew discharge between 18° and 30° for recirculation in a closed circuit with a crusher or for stockpiling of finished material.
According to the team at Collier, the benefits of running a hybrid machine are not limited to the reduced fuel costs, as plant operator Brian Crawford explained: 'As the 694+ hybrid is still a mobile machine, we are able to simply track the machine out of the way to clear any material build-ups using the diesel engine – meaning we are not limited to the range of the cable. We can then track it back into place and instantly start production again. This would not be possible with a static electric drive machine.
'We also benefit from less downtime with this hybrid machine, compared with a standard diesel-drive machine, not only in terms of fewer breakdowns, but also because there are fewer filters to replace during planned maintenance and significant time savings to be gained through not having to re-fuel the machine so often.'
With the upcoming change in fuel duty set to come into effect from 2022, many in the industry will be looking at how they can mitigate the ramifications this is set to have. Estimates on the cost impact to the sector range from £280 million to £490 million per annum, so a switch to hybrid and electric-drive machinery could be the natural choice to mitigate this.
Alan Crawford, another of Collier's plant operators, said: 'We have been monitoring the consumption of the 694+ hybrid and calculated that it is saving us in the region of 150 litres of diesel per day, compared with running a diesel-drive machine.
'The machine has also proved to be a reliable addition to the fleet, but we also have confidence in the team at Molson Finlay Scotland to be on hand if we ever have any questions or issues, as they have been throughout the life of all the other equipment they have supplied over the years.'
Molson Finlay Scotland's sales manager, Euan Fairweather, commented: 'With hybrid options now available throughout the Terex Finlay range, I expect more and more customers to start switching to this setup to mitigate the running cost increases expected when the fuel duty changes.
'Collier have always been one of my most forward-thinking customers and it is very impressive to see the business they have created in such a short time. It is also great to see them benefiting from the features of the 694+ Hybrid machine. The insight into the savings they have generated has provided a great 'real world' example of how this can benefit a wide range of customers.'