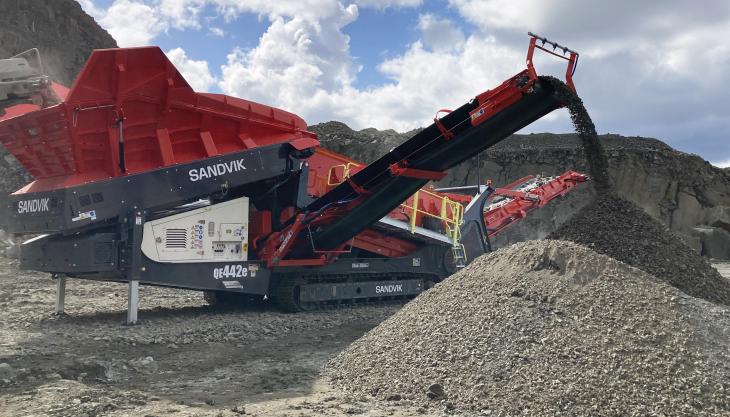 Recycling firm underlines commitment to carbon-neutral future with latest hybrid variant model
FIFE-based Collier Quarrying and Recycling Ltd have taken delivery of the first Sandvik QE442e hybrid mobile scalper to be sold in Scotland, as they continue to strengthen their commitment to sustainability and decarbonization.
The latest mobile plant investment will give Collier the versatility to switch between diesel-hydraulic and electric-hydraulic modes of operation, allowing them to lower their running costs and mitigate rising fuel costs whilst reducing their carbon footprint.
Established in 2007 and operating from Goathill Quarry, near Cowdenbeath, Collier have developed a strong reputation for supplying high-quality virgin aggregates and recycled materials in the Edinburgh and Glasgow region. 
A longstanding customer of Sandvik, Collier purchased their first machine from the Swedish manufacturer more than 15 years ago. So, it was a natural progression to move to a hybrid variant when the recycled aggregate specialist needed to update their existing machinery fleet.
The hybrid 'e' option – which is available on larger models within the Sandvik tracked screening range – offers customers the flexibility to run in either a diesel mode or an electric plug-in mode of operation.
'We have always had a good working relationship with Sandvik and cannot fault the quality and reliability of their equipment,' said Duncan Collier, managing director of Collier Quarrying and Recycling. 'The majority of our fleet is now powered by electricity, and it was the obvious choice to go with the hybrid model for our next investment.'
The Sandvik QE442e Hybrid is an ideal fit for the recycling operator. With versatility at the core of Collier's operation, the unit will be used for different applications on site. Sitting behind the stationary cone crusher, the machine can process both aggregates and recycled materials separately. Fitted with 100mm punch plate and 40mm on the bottom, the QE442e is producing 3,400 tonnes of aggregate products per day.
The QE442e hybrid model is the largest in Sandvik's heavy-duty range of mobile scalpers and features the same class leading characteristics as the standard model. The plant features a 18ft x 6ft screen with high-speed and aggressive throw built for tough applications, including handling a high volume of infeed material.
The QE442e is powered by the latest generation of Stage V engines for maximum performance, improved fuel economy and reduced environmental impact. The hydraulic system is optimized, and the reduced engine rev/min further minimizes fuel consumption, whilst a well-proportioned fuel tank maximizes intervals between refuelling.
To reduce downtime and long-term ownership costs, the QE442e Hybrid offers extended service intervals (from 2,000h to 4,000h) and a 50% hydraulic fluid saving. The mobile scalper also offers the same user-friendly features of the 2 series screens, including an electrical control system which improves both operational effectiveness and machine safety.
Another enhanced feature is the two-speed tracking, which significantly speeds up the time for moving and relocating the machine across the quarry.
Adam Frame, sales area manager for Sandvik Mobile Crushers and Screens, commented: 'I am impressed with Collier's modern and forward-thinking approach to the business, continually adapting their operations to the ever-changing environment. I expect that there will be a tendency for other customers to follow and we will see an increase in the alternative energy solutions we have available to offer within our mobile product offerings.'