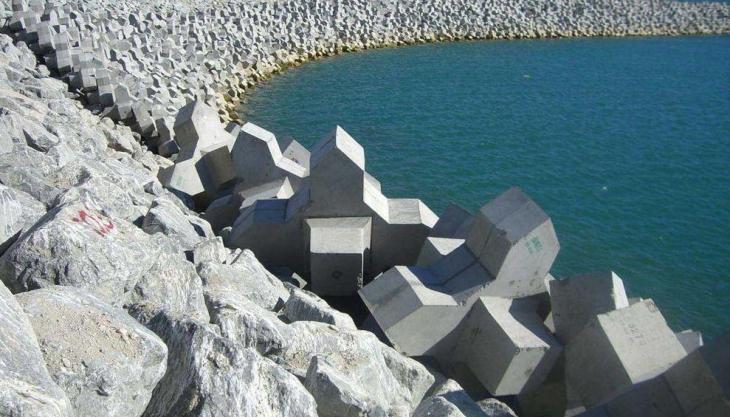 Aggregate Industries and Holcim Coastal to showcase Xbloc wave protection system at Flood & Coast Show
AGGREGATE Industries, in partnership with Holcim Coastal, will be showcasing their complete range of coastal protection solutions, including the renowned Xbloc system, at the Flood & Coast Show in Telford from 7–9 June 2022.
Offering everything required to protect the UK's shores, Aggregate Industries and Holcim Coastal are joining forces to demonstrate their expert innovation and global focus on sustainability across key products and solutions.
Highlights will include Basalton concrete columns for revetments, Betomat precast articulated concrete block mats, Armourstone natural quarry stone for intermediate waves, and new additions to Aggregate Industries' range, Quattroblock for moderate waves, and the Xbloc system of breakwater concrete armour units for high waves (pictured).
Xbloc, now part of the Aggregate Industries portfolio, is a system based on randomly placed, interlocking units to deliver robust, durable, and adaptable protection more quickly. Offering low concrete consumption and a low CO2 footprint compared with other armour units, Xbloc has been applied successfully in breakwaters and shore protection projects across the world, with more than 500,000 blocks successfully placed in the last 20 years.
Also new to the range is Basalton Quattroblock, said to be the most stable block revetment currently available. This innovative block is a further development of the already well-known Basalton column, designed to further improve revetments and strengthen coastal embankments.
Other solutions on display will include Basalton Standard, a proven product for coastal and inland revetments for more than 45 years; Betomat precast articulated concrete block mat, which acts as a defence solution to the erosion of embankments; and Armourstone natural quarry stone, chosen for its durability and resistance to wear and erosion, which is available from 45mm in size up to 10+ tonnes in weight.
Experts from across the two businesses will be on the stand to answer questions and demonstrate successful global projects using all solutions.
The Flood & Coast Show at The Telford International Centre attracts exhibitors, speakers, and visitors from around the world to advance the debate about the impacts of climate change on flood and coastal erosion risk management (FCERM).
Produced by CIWEM in partnership with the Environment Agency, it brings together professionals from across the FCERM community to discuss innovative ways of working together and with the communities most affected by flooding and coastal erosion in today's changing climate.
Stephen Dryden, regional director at Aggregate Industries, said: 'We're looking forward to joining the debate at The Flood & Coast Show and having the opportunity to showcase our solutions, as well as our continued commitment to innovation and sustainability, to the industry.'