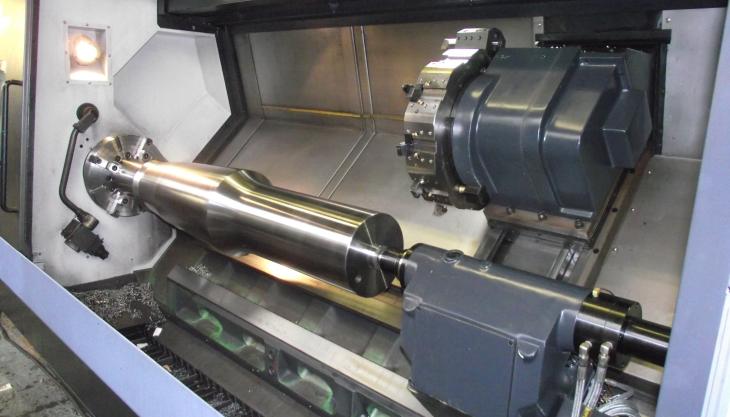 Leading crusher spares and service supplier boosts capabilities with new turning and milling machines
CMS Cepcor, one of Europe's leading aftermarket manufacturers and suppliers of crusher spare parts and crusher services, have recently ordered a new Doosan Puma 700XLM CNC turning/milling/drilling centre and a Doosan Puma 400LB turning centre for their UK engineering facility.

The Puma 700XLM – the largest turning centre in the Doosan range – is one of only two such machines in the UK and will add considerable weight to the company extensive machine capability.

CMS Cepcor's technical director, Chris Sydenham, commented: 'With increased demand for quality UK-manufactured replacement crusher spare parts, these new machines will enhance our engineering capacity to complete the UK manufacture of precision-machined components to suit primary gyratory crushers, cone crushers and jaw crushers, including repairs to major crusher components, without the need to contract any third-party suppliers.'

The Doosan Puma 700XLM is designed for high accuracy and heavy-duty machining of large, heavy and long components up to 5m in length, and has the ability to support large chucks (up to 32in).

With a bar working diameter (164mm) capacity capable of supporting a work piece up to 8.9 tonnes between chuck and tailstock, machining productivity and flexibility is further enhanced by 1,140mm swing-over-bed and 1,000mm swing-over-carriage capabilities, with large turning diameter capacities of 900mm.

Doosan Puma 400 turning centres are the most powerful machines in their class. Designed for heavy interrupted cutting, the Puma 400LB machine has a 15in chuck/116.5mm bar capacity and is equipped with a long bed (2,100mm) with the ability to maintain superior finishes and hold long-term accuracies.

CMS Cepcor say the extensive engineering facilities at their UK site (CNC, milling, turning, boring, slotting, grinding, drilling, welding, co-ordinate measuring and material testing) are managed by staff with expertise in the design, manufacture, operation and maintenance of crushing, screening and asphalt plants, many of whom were previously employed by some of the most well known and highly regarded crusher OEMs.