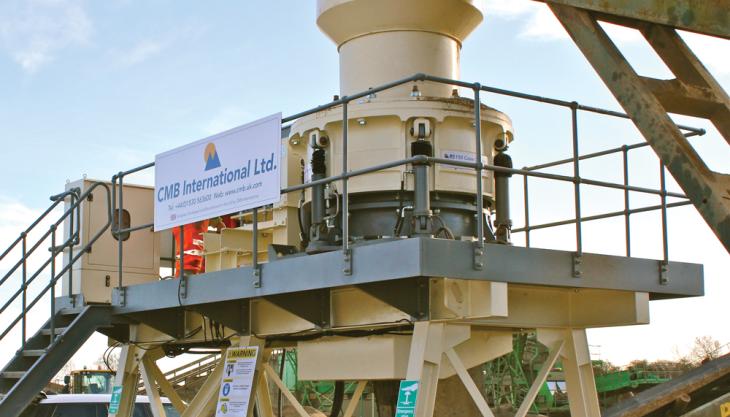 CMB International have recently supplied an RS150 Rockstar cone crusher to Yarrows Aggregates Ltd, based at Little Catwick Quarry, near Beverley, East Yorkshire. Part of the F.D. Bird group of businesses, Yarrows have been in operation for five years and primarily extract minerals deposits from around Old Hall Farm, at Catwick, for use in construction projects across the north-east of England.
Recent developments have included the establishment of a recycling plant which will allow the company's extensive aggregate reserves to be conserved further into the future. The decision to purchase an RS150 cone crusher stemmed from a meeting at Hillhead 2014.
John Bird of Yarrows commented: 'We were in the process of producing sand utilizing a 10mm feed material and we had several crushers on hire but with little success. We met CMB at the Hillhead show and discussed our processing issues with them, and they came up with the ideal solution.'
Producing sand from a 10mm feed is not an easy process due to the small size of the feed material and the small size of the product required. It is common for crushers to 'pack up' when crushing such small material on a tight closed-side setting.
Liam Holland, general manager of CMB, commented: 'We had a long discussion with John about this process, and as he also wanted to perform normal crushing operations we suggested the RS150 would be the ideal cone crusher for his requirements.'
Subsequently, a modular RS150 unit mounted on a skid frame and featuring an on-board electrical starter panel was supplied, installed and connected to the site's electrical supply.
Designed, developed and manufactured by CMB International, the RS150 Rockstar is a modern, cast-steel, all-roller-bearing cone crusher featuring rapid hydraulic adjustment of the discharge setting during the crushing operation. The hydraulics also incorporate a tramp metal release, automatic reset and unblocking feature, which will clear the crushing chamber in a matter of minutes.
Re-metalling can be carried out with the crushing head in situ. The short shaft configuration, which requires no top bearing, allows all major components to be removed from above, with minimal headroom required for installation and maintenance.
According to CMB, the proven all-roller-bearing design provides for reduced power consumption, long life, easy spares availability, and a more compact lubrication system. Other key product features include: a large, unobstructed feed opening; high output and good product shape; unattended operation; fast and simple adjustment; and minimal maintenance.
John Bird said: 'We are delighted with the results; the RS150 is doing exactly what is required. It was a very smooth process from our initial discussions to installation and commissioning earlier this year.'