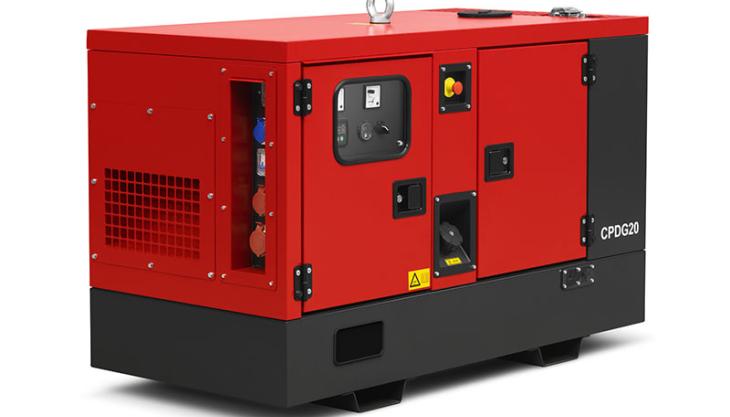 Latest diesel-powered five-model range available in 9, 14, 20, 30 and 40kVA ratings
CHICAGO Pneumatic have introduced a new range of mobile diesel-powered generators for the European market. The rugged and easy-to-move CPDG (Chicago Pneumatic Diesel Generator) range is designed to provide reliable and consistent power, with five models available in 9, 14, 20, 30 and 40kVA ratings.
Suitable for prime power applications in the general construction and rental industries, the generators are fully CE compliant for use in Europe.
With a galvanized, powder-coated canopy and spillage-free frame, the durable generators are able to withstand frequent use in a range of tough and demanding construction environments.
According to Chicago Pneumatic, the flexibility afforded by a single, centrally located lifting eye means that the generators can be moved quickly around a construction site to reduce expensive downtime, with a compact, stackable design also making them easy to transport between different job sites.
'Our new range of CPDG generators are built tough, but offer maximum versatility and a wide range of features to fully meet the mobile power requirements of the general construction and rental industries,' said Angel Nieto, product marketing manager for Chicago Pneumatic.
'Easy to use controls and fast maintenance accessibility mean the generators are never idle for long, and a high-capacity fuel tank provides for extended run-times between refueling to ensure maximum productivity from both the generator and those working on site.'
The new CPDG CE range has been developed to be straightforward and easy to use, with user-friendly controls and gauges. Equipped with a powerful Kubota diesel engine and automatic voltage regulator, the diesel generators provide a service interval of 500h.
A removable front panel and wide doors provide convenient access to the radiator and other keys components for maintenance tasks, ensuring downtime is kept to a minimum. An extra fuel filter with water-separator kit is also included as standard.
In addition, the emergency stop button, fuel-filling point, coolant-filling point and cable entry are all easy to access from the outside the machine.