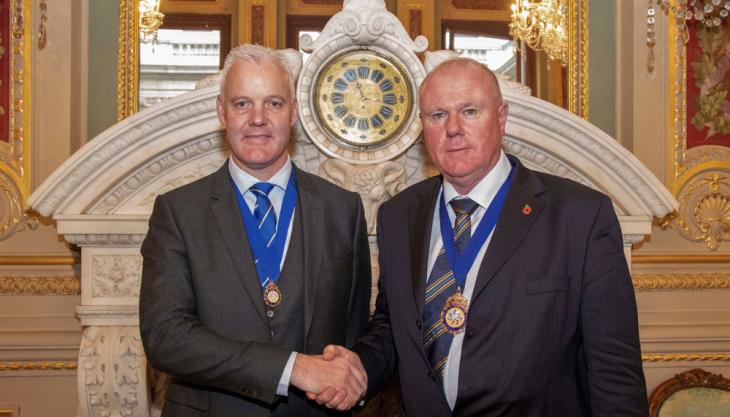 Institute of Demolition Engineers appoints Gary Bishop as president and elects Richard Dolman as vice-president 
GARY Bishop, managing director of Bromley Demolition, has been appointed as new IDE president after taking over from David Darsey at the end of his two-year tenure.
Mr Bishop (right of photo), who has worked with Bromley Demolition since 1979 and is marking his 40th anniversary at the company this year, said: 'I would like to thank David [Darsey] for his hard work and commitment to the Institute throughout his term in office. 
'I am extremely proud to follow him through the presidency of the National Federation of Demolition Contractors and now into the IDE. It's an exciting time for the demolition sector and I look forward to working with Richard Dolman and others in our organization to promote the important work the industry does.'
Meanwhile, Richard Dolman (left of photo) was elected vice-president of IDE, which marked a final success of 2018 for the managing director of East Midlands-based AR Demolition. He said: 'AR Demolition is becoming recognized as a truly innovative, cutting-edge company and we are doing our part to help create a demolition industry for the future.
'I hope to use my position as vice-president of the IDE to help address the skills shortage, inspire a new generation of demolition engineers, to promote ideals throughout our connected sectors and promote safer ways of working in our industry.'
He continued: 'I look forward to working closely with new IDE president Gary [Bishop] in engaging with industry and government bodies to promote innovative thinking to complex scenarios, sharing best practice and raising the positive professional profile of demolition within the construction industry.'
Mr Dolman was made a Fellow of the IDE in 2016 and had already occupied a seat on the body's council of management.