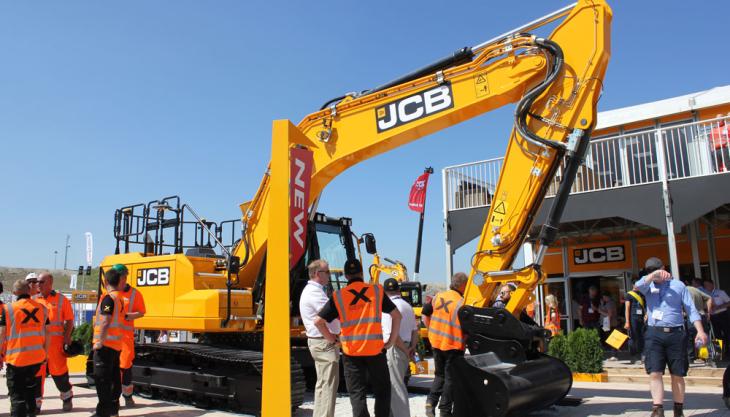 The Construction Equipment Association's official CESAR Scheme passed another milestone on 27 June as JCB unveiled the 275,000th CESAR registered machine on their stand at Hillhead 2018. The new JCB 220X tracked excavator, manufactured at JCB Heavy Products in Uttoxeter, took centre stage on JCB's large and impressive exhibition stand.
JCB, one of the early adopters of the CESAR Scheme in 2007, also registered the 100,000th machine, a JCB 541-70 Loadall, back in October 2012.
JCB's UK sales director, Steve Smith is pictured with Rob Oliver, CEA Chief Executive, and Datatag's MD Kevin Howells.
At the unveiling, Steve Smith, UK sales director of JCB, commented: 'We're delighted to register the 275,000th CESAR plate on our new JCB 220X which is the centrepiece of our stand this year. I know that our many customers have benefitted from the protection the CESAR system over the years, with thefts reduced by over 70% since its launch.'
Rob Oliver, chief executive of the CEA, said: 'Time flies! It hardly seems nearly six years since we were at Rocester to unveil the 100,000th CESAR registered machine. It's through the continued support of leading manufacturers, like JCB, that the whole industry benefits from fewer thefts thanks to CESAR's theft-deterrent effect and improved rates of recovery.'
Kevin Howells, CEO at Datatag, added: 'When we launched CESAR at JCB in 2007 we had no idea of the impact it would have in reducing equipment crime. I would like to thank JCB, along with the wider industry, for their continued support of CESAR and for their help today in celebrating this important milestone.'
The official CESAR scheme is made up of state-of-the-art, multi-layered, security marking technologies supplied by Datatag including uniquely numbered triangular tamper evident ID plates, RFID tags, microscopic Datatadots, and forensic DNA. 
Once a machine is fitted with the CESAR system its details are recorded on Datatag's secure database which, in the unlikely event of a theft, police can access 24/7 allowing them to identify the stolen machine at the roadside and return it to its rightful owner. The theft-deterrent benefit of CESAR is such that many leading insurers provide insurance premium discounts of up to 20% for CESAR-protected and registered equipment.