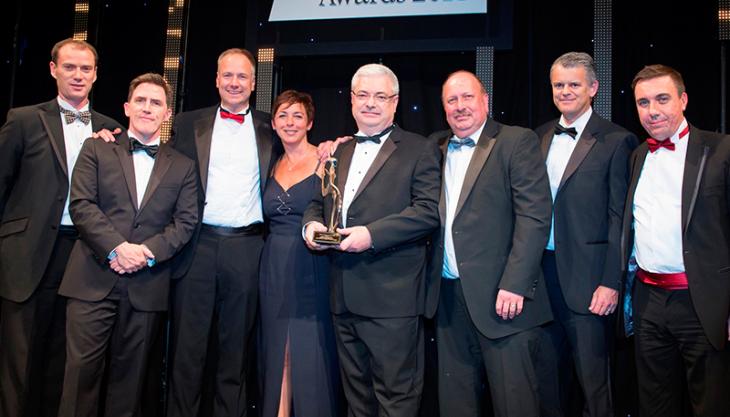 Company picks up Motor Transport award for outstanding achievements in cyclist safety
CEMEX UK received a Safety in Operation award at the recent Motor Transport Awards for their outstanding achievements in cyclist safety. The award was presented by actor and comedian Rob Brydon.
Since 2004 CEMEX UK have developed a significant cyclist safety programme, including: training programmes for their drivers; innovations and measures for their 900+ large goods vehicles (LGVs) to help them detect cyclists close to the vehicles; sharing best practice with contract hauliers; and events to help educate cyclists about the dangers around LGVs.
The programme has helped influence and shape guidelines for the Mineral Products Association and the Freight Transport Association, and company representatives have also been involved with Transport for London to establish industry standards and lobby the European Parliament.
The awards, organized by Motor Transport magazine, are the road transport industry event of the year, recognizing innovation, outstanding service, efficiency and quality. Winning a Motor Transport award shows that a business has reached the very highest standards, as judged by an independent panel of experts drawn from the industry.
The judges said CEMEX were leading the industry in cycle safety and taking an exhaustive approach to the issue of reducing road risks, focusing on sharing road space.
The judges added: 'The company has dealt with a difficult issue, making proactive moves on cycle safety. CEMEX have been on a journey to make their vehicles ever safer for vulnerable road users for more than a decade, after the death of Alex McVitty in 2000 who was hit by one of their concrete mixers.'
Craig Williamson, CEMEX UK's director of logistics, commented: 'We were delighted to receive this major award. It is recognition for all the hard work and commitment that everyone, from every part of the CEMEX business, has made to making the roads safer for vulnerable road users so that we can all share our roads safely.'