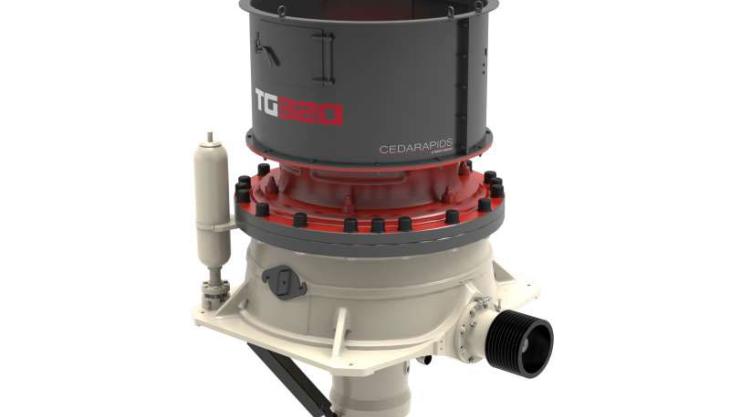 Terex MPS introduce new TG Series cones to complement existing MVPX Series and TC Series machines
TEREX Minerals Processing Systems (MPS) have introduced the new Cedarapids TG Series bronze bushing spider bearing cone crushers to complement the existing Cedarapids MVPX Series (screw-type cones) and TC Series (floating-bowl cones).
Wayne van Antwerpen, crusher technology product manager with Terex MPS, said: 'The new range of TG spider-bearing cones, being offered in both a large-feed secondary and an all-rounder tertiary configuration, will put us in a complete class of our own in the industry, with no other OEM able to offer such a diverse and extensive cone crusher portfolio.
'We have been tremendously successful with their roller-bearing cones, namely the Cedarapids MVPX and TC cones, offering customers all the benefits of roller bearing technology.
'With the inclusion of bronze bushing technology, we can now open the door to the versatility that bronze bushings bring to the table: for example, the ability to quickly and easily alter the eccentric throw of the cone, on site, simply by rotating the eccentric bushing. No expensive conversions and costly parts.'
The new spider-bearing range consists of four models focused on the aggregate and recycling industries – the TG120 (120hp), TG220 (220hp), TG320 (320hp) and TG420 (420hp). Each model is available in two versions – TG (tertiary) and TGS (secondary).
The TG versions can actually be run in a secondary, tertiary or quaternary position, whilst the TGS models, which can accept a 75% larger feed size, are suitable for a secondary position or even a primary position in a controlled-feed sand and gravel application.
Two larger models will also be available for large-capacity mining and quarrying applications – the TG820 (820hp) and the TG1020 (1,020hp).
The new TG Series spider-bearing cones provide nominal maximum feed sizes and applied power similar to current Terex cone offerings, but their numerous eccentric throw options and liner configurations allow for increased application versatility.
The TGS Series models, which utilize the same base mount and operate in the same horsepower range as their tertiary-version counterparts, have fewer linear configurations and eccentric throw options but are still said to offer great advantages over other types of crushers.
For example, a 200hp secondary-version spider-bearing cone can, say Terex MPS, have a similar output performance to that of other types of 300–400hp cones and a maximum feed size similar to that of other types of 400–500hp cones.