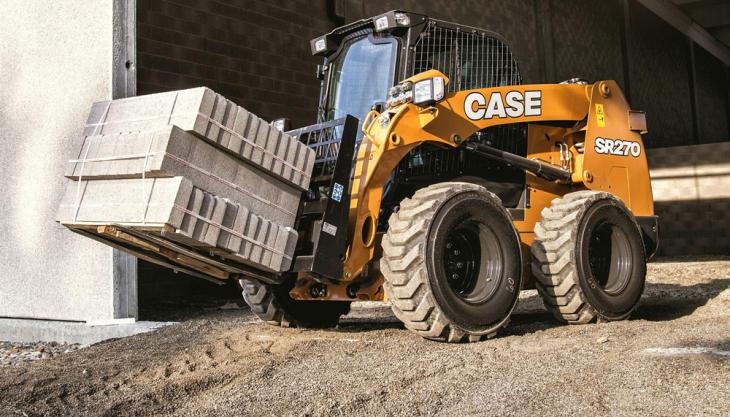 New technologies adopted for Tier 4 Final emissions compliance and lower maintenance requirements 
CASE Construction Equipment have introduced their newly upgraded skid-steer and compact tracked loaders featuring more enhancements for customers, including: Tier 4 Final compliance; improved performance; and increased operating capacity.
New model numbers have been unveiled to reflect the significant advances in operating capacity. The radial lift SR270 and vertical-lift SV340 skid-steer loaders replace the previous top-of-the-range SR250 and SV300 models, while the radial lift TR340 compact tracked loader replaces the TR320 unit.
Operating capacity on the vertical-lift TV380 tracked loader is unchanged and, therefore, retains the same model number despite its enhanced lower emissions. 
The rated operating capacity rises from 1,135kg in the SR250 to 1,225kg in the new SR270 loader; from 1,360kg in the SV300 to 1545kg in the SV340; and from 1,451kg in the old TR320 to 1,542kg in the new TR340 compact loader.
Another advantage of the upgraded models is their increased bucket breakout force, which ranges from 38.6kN on the SR270 up to 42.4kN on the SV340 machine. In addition, the compact machines have one of the industry's widest cabs, with 360-degree visibility, helping to make the operators' job easier and safer.
All upgraded skid-steer and compact tracked loaders feature 90hp Hi-eSCR engines, which were developed by FPT (Fiat Powertrain Technologies) to meet the demanding
Stage IV/Tier 4 Final emissions regulations. The engine technology is said to provide higher combustion efficiency which, in turn, delivers lower heat rejection and a reduction in the exhaust gas recirculation rate from 25% to 10%, the lowest in the market.
An operational benefit of these changes is better load response; the engine reacts more quickly to sudden demands for increased torque which is often the case during the operation of a skid-steer loader.
The high-performing engine has excellent torque output (383Nm at 2,500 rev/min) and is directly coupled to the hydraulic pumps, which means that all the power of the engine is transferred directly to the wheels.
The compact engine and ancillaries help make access easier for servicing. Along with the elimination of diesel particulate filters, this helps to further reduce operating costs and downtime for customers.
On the upgraded loaders, Case have introduced heavy-duty buckets with factory-installed bolt-on teeth that are easy to replace with standard wrenches. These give the machines increased tearing power and more efficient digging in rough terrain.
In addition to these practical improvements, Case will offer a new aesthetic option. Skid-steer owners/customers will be able to personalize the livery of their machines by visiting Case's new online Tattoo Lab, where they can choose from a selection of large and colourful transfers that affix to the rear-sides of the vehicle's bodywork.