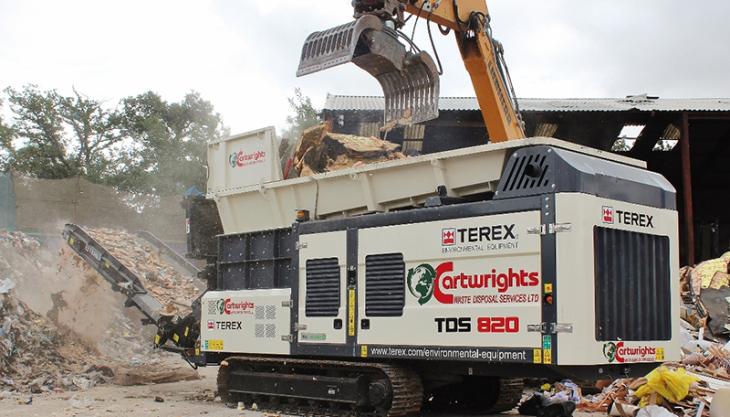 Recently purchased Terex TDS 820 twin-shaft shredder opens up new business opportunities for company
TELFORD-based Cartwrights Waste Disposal Services say their latest machine purchase – a Terex TDS 820 twin-shaft slow-speed shredder, sourced from Finlay Central, will help fulfil their major plans for expansion.  
Company owner John Cartwright said: 'We've been doing zero waste to landfill for three years with around 6,000 tonnes of material passing through our transfer station every year. But the Terex TDS 820 will see annual throughput increase to around 15,000 tonnes by taking waste from outside companies. This means we'll have to recruit more people and expand the fleet to meet growing demand.'
The state-of-the-art machine allows Cartwrights to produce and process refuse- derived fuel (RDF) on site and the higher quality material produced can be exported for use in heating and power facilities across Europe. The independently driven twin-shaft set-up on the TDS 820 unit means double 2m-long shafts can run bi-directionally – reducing wear and tear and, as a result, downtime is kept to a minimum.
Powered by a fuel-efficient Scania engine, the shredder features customizable shredding programmes that can be configured to suit specific requirements so optimum performance is maintained. A high-spec transfer conveyor ensures no material is left below the shredding chamber. 
The Terex TDS 820 for Cartwrights has been specified with both a small tooth bar and an extra fine breaker bar. It is capable of producing in excess of 35 tonnes/h; the small tooth breaker processes material to 200mm, while the extra fine breaker option reduces recycled waste to 120mm. 
Tom Moran of Finlay Central commented: 'The Terex TDS 820 is a highly versatile machine. With powerhouse material reduction capabilities, it's an asset to Cartwrights and is already proving its worth. It's remote control-operated on a tracked undercarriage making it easy to move around site. This is the first plant that we've supplied to Cartwrights Waste Disposal Services and we hope it's the first of many.'
Finlay Central were awarded distributorship by Terex Environmental Equipment in late 2014 and the latter's extensive offering includes: trommels; horizontal wheeled tracked grinders; low speed shredders; and screens featuring powerful Spaleck technology.
The machines are renowned for providing efficient production on site and low operational costs, as well as offering ease of maintenance ensuring that downtime is kept to a minimum.