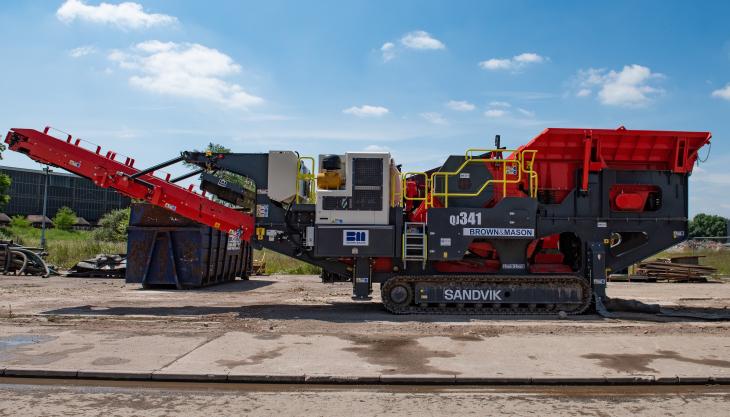 Demolition specialist boosts recycling productivity with another Sandvik QJ341 mobile jaw crusher
BROWN and Mason – one of Europe's leading demolition, dismantling and decommissioning companies – have added a new Sandvik QJ341 tracked jaw crusher to their waste-recycling fleet.
The company's newest mobile crusher (supplied by authorized Sandvik distributors Retec Equipment) has been put straight to work at the former Rugeley B Power Station, in Staffordshire, following the successful explosive demolition of the facility's four reinforced concrete cooling towers on 6 June 2021.
Dartford-based Brown and Mason have been working at the former coal-fired power station site since April 2018 after being contracted to carry out decommissioning by site owners ENGIE.
Having already owned two QJ341 mobile jaw crushers, Nick Brown, managing director of Mason and Brown, needed no convincing to add a third model to the demolition specialist's waste-processing fleet.
'With the reliability of the QJ341 and aftermarket support we have received, Sandvik was the first choice of supply when it came to investment in an additional unit,' he commented.
Specially designed for a wide range of crushing applications, including waste-recycling, the Sandvik QJ341 machines have been put through their paces on the major Rugeley B project, where they have been providing the customer with higher productivity, reduced running costs and a longer wear life, whilst maximizing the value of construction and demolition (C&D) waste.
The QJ341 features a C12 jaw crusher with a large 1,200mm x 750mm (48in x 30in) feed opening and a hydraulic drive that allows users to start the machine while under load for optimum uptime.
The tracked jaw crusher has several key features to ensure continuous, uninterrupted crushing and enhanced operator safety.
These include: a hydraulic raise/lower facility on the main conveyor; a level sensor fitted to the jaw for maximum flow of material into the crusher chamber; and a reverse crushing action to allow Mason and Brown to relieve blockages caused by the high level of steel content in the power plant's rubble.
Capable of processing up to 400 tonnes/h, the machine is fitted with Optitooth jaw plates as standard, providing longer wear and reduced maintenance costs for Mason and Brown.
The QJ341 is also equipped with Sandvik Mobile Crushers and Screens' My Fleet telematics system, which has been purpose developed to help customers know exactly how their equipment is being utilized.
The powerful automation and data collection tool provides live monitoring of plant performance, hours, location and other parameters to help machine owners/operators get the very best out of their investments.  
Brown and Mason are scheduled for clearing the Rugeley B Power Station site in September 2021, paving the way for a new low-carbon, mixed-use development that will include around 2,000 smart homes, commercial properties and a school.