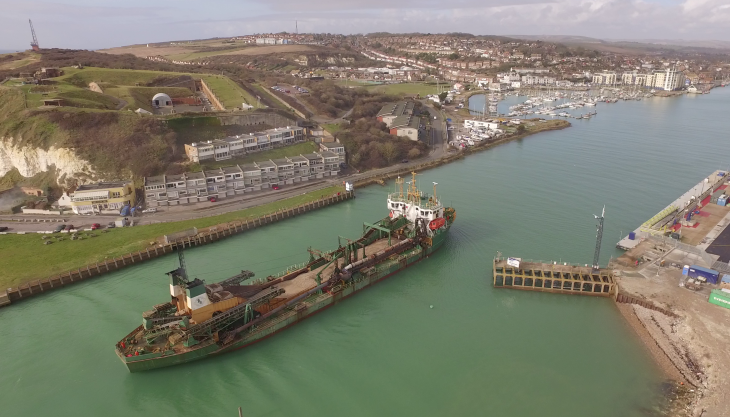 New marine aggregates terminal now fully up and running at Newhaven Port on the south coast
BRETT Aggregates have recently opened a new marine aggregates terminal at Newhaven Port that provides access to more than 50 million tonnes of consented marine aggregate licence capacity.
Located in East Sussex on the south coast of England, the site is close to the marine licences in the English Channel and the Isle of Wight area, and is capable of receiving 10,000-tonne cargo dredgers.
Material is already being received from a range of vessels such as the Brett-owned Britannia Beaver and the Charlemagne, Melina and Victor Horta from Brett's dredging partners Deme Building Materials Ltd.
Oliver Brown, development director for the Brett Group, said: 'This new terminal is good news for East Sussex. Construction materials are important to the local economy and some 1.4 million tonnes of sand and gravel are required by East Sussex each year to meet construction demand.
'This investment by Brett, which means that aggregates can now be brought into the heart of the market rather than using lorries to bring materials into the county, significantly strengthens the aggregate supply base for East Sussex, which is increasingly reliant on marine aggregates.'
The investment is not only good news for local customers, but also those further afield, as Tom Longland, managing director of Brett Aggregates, explained: 'We have also reinstated and significantly expanded the rail connection, allowing aggregates to be exported by rail to meet construction demand in London.
'The first full train load of aggregates left the site on Thursday 18 June bound for Capital Concrete's Wembley batching plant.'
Mr Longland added: 'The effort by everyone on site to get the marine aggregates terminal fully operational has been tremendous; we have built up a great working relationship with the teams at Newhaven Port, Network Rail and DB Cargo – this is a great result for everyone.
'Together with Brett's marine aggregate terminals at Cliffe, in Kent, and Ipswich, in Suffolk, this significantly strengthens Brett's marine aggregate rail capability and provides rail-linked terminals close to the marine licence areas of the East Coast Thames, and English Channel.'
Completed in June 2020, the new terminal at Newhaven Port includes a bespoke aggregate processing plant, manufactured by Atherton Materials Handling, which incorporates state-of-the-art processing components designed to minimize noise generated by the activity.