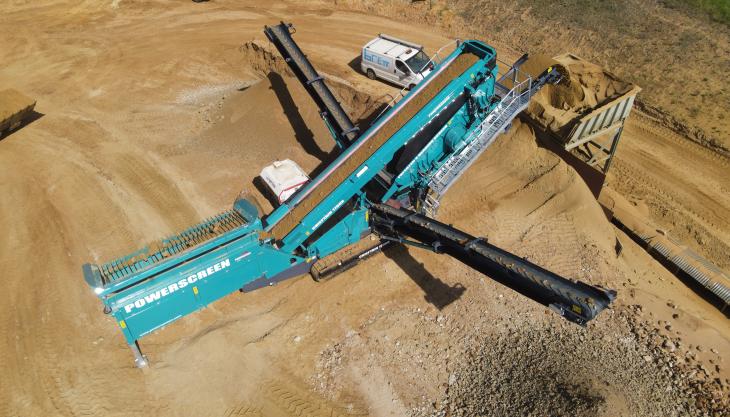 New Powerscreen mobile plant chosen for its increased throughput and fuel efficiency
BRETT Aggregates have taken delivery of the UK's first Powerscreen Chieftain 1700X screen from Blue Group.
Built on the success of the original Powerscreen Chieftain 1700 inclined screen, the new model has many new features that delivers increased production throughput with significantly improved fuel efficiency.
The Chieftain 1700X mobile screen, for example, boasts a large 16ft x 5ft screenbox with optional two- or three-deck configurations to cater for all application types. One of the key benefits of the new Powerscreen plant is a patented four-bearing screenbox configuration that provides a 17.5% increase in G-force compared with its predecessor.
For added flexibility, the machine can be changed to a two-bearing set-up within 2h to meet a wide range of applications.
The Chieftain 1700X has also been designed to give contractors/material suppliers an alternative energy source to operate their range of processing equipment.
Brett Aggregates continue to demonstrate a strong commitment to sustainability and responsible sourcing, and the Powerscreen mobile plant is currently of the most fuel-efficient machines of its type available.
Designed to optimize fuel economy, the Chieftain 1700X screen is powered by a Stage V-compliant 131hp Cat 4.4 engine that delivers up to 15% better fuel efficiency than its predecessor model.
These efficiency advancements, coupled with the improved serviceability and access for maintenance, were key factors in Brett Aggregates' decision to purchase the latest Powerscreen Chieftain 1700X.
Jim Gibb, area production and recycling manager for Brett Aggregates, said: 'We have run a number of Powerscreen Chieftains over the years but this one really is something special. The throughput has noticeably increased, and it is using at least 10-15% less fuel making it more efficient and more sustainable. This combination makes it an asset to our business.'