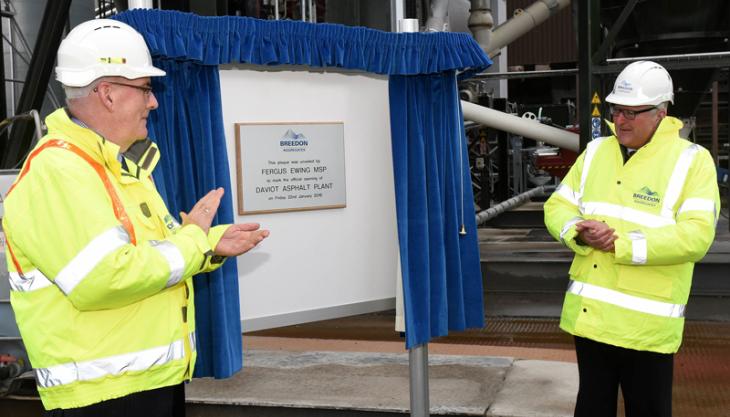 Scottish Business Minister Fergus Ewing MSP officially opens new £2.2 million Marini plant near Inverness
FERGUS Ewing MSP, Scotland's Minister for Business, Energy and Tourism, today opened a brand-new asphalt plant at Daviot Quarry, near Inverness, which represents a £2.2 million investment in the area by Breedon Aggregates, Scotland's leading independent building materials company.
Breedon's new state-of-the-art Marini plant will be capable of producing up to 180 tonnes of asphalt per hour, substantially more than the previous plant on the site, and it also has a significantly larger hot-storage facility.
Importantly, the plant will be able to process asphalt planings, increasing the proportion of recycled raw material used in production at Daviot.
Mr Ewing opened the plant at a formal ceremony hosted by Breedon Scotland's chief executive, Alan Mackenzie, and his senior team, in the presence of a number of Breedon's largest customers.
Commenting on the investment, Mr Mackenzie said: 'This is one of the biggest capital investments we've made in Scotland and it reflects our long-term commitment to the Inverness market. 
'Crucially, it provides us with the capacity we need to service a number of major projects in the area over the coming years, including the dualling of the A9 between Inverness and Perth, the dualling of the A96 between Inverness and Nairn, and the Inverness West Link Road.
'We were particularly pleased that the Minister agreed to open our plant today, given the consistent support he has given to major infrastructure investment in Scotland.'
Speaking at the opening ceremony, Mr Ewing said: 'Infrastructure investment is central to the Scottish Government's economic strategy and our vision for a prosperous, fair and well-connected Scotland.
'I'm pleased to be here today at the opening of Breedon's new multi-million pound facility which will provide a boost to the economy in and around the Inverness area, and will also allow the company to compete for work on key national projects.'
For more information about Marini asphalt plants visit: www.marini.fayat.com