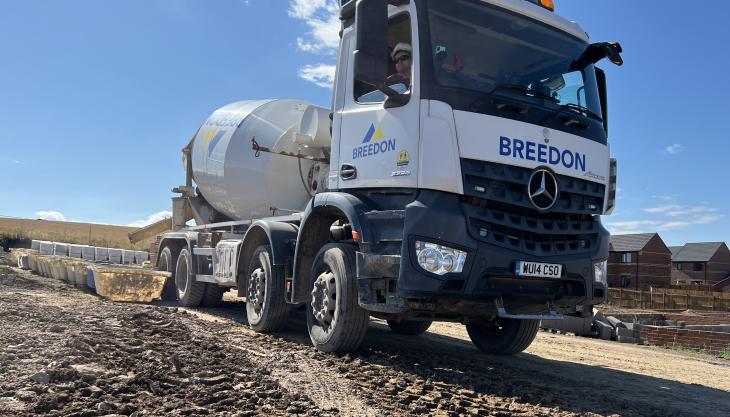 Two more truckmixer drivers participating in the MinTrain MixerSURE training programme
BREEDON area logistics manager Tom Colley is a big supporter of the MinTrain MixerSURE programme and is continuing to invest in the specialist driver training after successfully piloting the scheme with a new truckmixer driver at the company's Blyth plant in July 2021.
'Once again, we have called on the knowledge and expertise of Mark Cowan of MinTrain as we've brought two keen but inexperienced truckmixer drivers into the business at our Crime Rigg mortar plant in Durham,' said Mr Colley. 'After the success of the initial MixerSURE and SVCA training and assessment programme we piloted with Tony – one of our drivers at the Blyth concrete plant, we felt it was appropriate to follow the same path – this time with Scott and Adrian, to give them the best start possible within the business.
'Tony has been with us for over a year now and retaining him after his training has been key to both our business and the MinTrain training programme, as it's proof that we can turn inexperienced drivers into fully competent truckmixer drivers, with the proper guidance and support. Mark Cowan provided on-site, in-the-cab, on-the-job, and online training for both Adrian and Scott, who are building their skills towards being fully competent, reliable drivers,' said Mr Colley.
Mr Cowan remarked: 'It's always nice to hear the good things that MixerSURE offers; however, it's the results that really matter, and to see the progress that Tony has made in 12 months is incredible. Replicating this with Scott and Adrian was a similar challenge. Both came with different driving backgrounds, had never seen a plant or quarry, and had never set foot on a construction site, so there were a few nerves about the process. But credit to both lads, as they wanted to gain as much knowledge as possible, showed a genuine willingness to learn, and had a great attitude.'
As the Breedon MixerSURE programme contains the Site Vehicle Competence Assessment (SVCA) to demonstrate competence against a set of stringent criteria, the drivers will be given additional time to continue their development before this occurs, as Mr Cowan explained: 'Assessing driver competence in our sector is critical in reducing accidents and incidents, not just with truckmixers, but across the board; that's why we developed the SVCA. Having an actual demonstration of competence allows Tom to know where the strengths and weaknesses of his drivers lie and what areas need to be developed further. As Adrian and Scott have completed the induction stage of the MixerSURE programme, they'll continue to be supported before having the SVCA assessment.
Mr Cowan continued: 'Once passed, the drivers will be issued with a photo ID card confirming drum size, type of vehicle, pass, credit, or distinction grade, with Breedon receiving a certificate of competence showing the exact details. Coupled with the completed online modules, the drivers receive 12-month access to further training modules, toolbox talks, safety alerts, and anything else that will help them develop in their role as mixer drivers, all backed up by accreditations from DVSA (Driver and Vehicle Standards Agency), EMPI Awards, and CLOCS (Construction Logistics and Community Scheme), ensuring that MixerSURE is the highest standard available anywhere.'