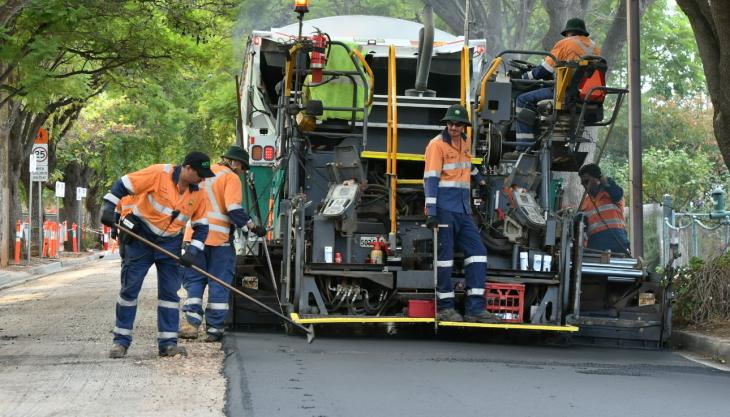 Company reinforces commitment to circular economy with country-wide launch of sustainable asphalt system
 
BORAL Australia marked last week's 50th anniversary of World Earth Day (22 April) by reinforcing their commitment to the circular economy with the country-wide launch of INNOVO asphalt system.
Latin for 'renew', INNOVO is a sustainable asphalt system designed so customers can customize a unique asphalt mix containing all, one or a number of salvaged materials such as recycled plastic, recycled glass and end-of-use tyres that would otherwise become landfill.
Boral are currently working alongside the City of Mitcham in Adelaide to resurface Carlisle Road in the inner southern suburb of Westbourne Park using INNOVO.
The company is combining 150 tonnes of recycled asphalt pavement (RAP) and recycled plastic in the asphalt mix being used to give new life to Carlisle Road. The amount of plastic being used is the equivalent of about 450,000 600ml plastic water bottles, which if laid end-to-end would stretch 60km.
INNOVO actively reduces the dependency on natural raw resources typically used in asphalt production by allowing customers to nominate the specific recyclable materials, based on local availability.
The range of recycled materials that can be substituted for natural raw materials include:
Recycled plastics: hard and soft plastics can be used as a sustainable replacement fine aggregates in asphalt.
Tyres: end-of-life passenger tyres are processed into 'crumb rubber' that is used as a sustainable replacement in bitumen.
Recycled crushed glass: replaces the need for natural sand used to produce asphalt without compromising on asphalt physical properties.
Recycled asphalt pavement (RAP): reclaimed roads and highways reduce the demand for bitumen and raw aggregate used in the production of asphalt.
Steel slag: the by-product of iron ore processing is used as a natural aggregate replacement.
Printer toner: Toner from printer cartridges can be added during production to enhance the physical performance characteristics of asphalt.
Using the INNOVO system, recyclable materials have already been incorporated into paths and roads in Queensland, New South Wales, Victoria, South Australia and Western Australia, which, in total, amount to 1.14 million 600ml plastic bottles, 397,000 330ml glass bottles and 600 end-of-life tyres.
'INNOVO demonstrates Boral's commitment to tangibly and increasingly contribute to the sustainability of the Australian construction sector by respecting the environment and enhancing communities while meeting the high expectations of our diverse customer base,' said Wayne Manners, president and chief executive officer of Boral Australia.
'The variable product range and the flexibility of the INNOVO system provides Boral and our customers with an excellent opportunity to lead by example. We aim to make a real difference by promoting sustainable practices and seek to be part of the practical solution to reducing landfill.'