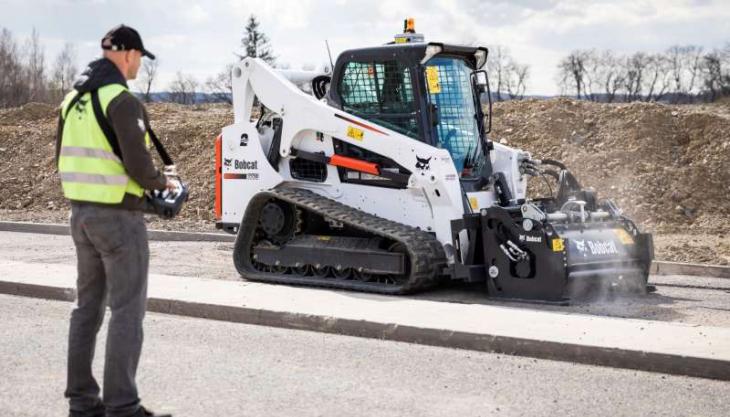 Attachment range expanded with plug-and-play remote control for increased safety, comfort and productivity
BOBCAT, the market leaders in compact loaders, have expanded their attachment range with the launch of their new remote-control system.
All Bobcat compact loaders are equipped with the quick-change Bob-Tach attachment-mounting system, facilitating the quick and safe interchange of more than 100 different types of Bobcat attachment.
The new remote-control system has been designed in the same way – it is a plug-and-play system comprising an easily portable and industrial radio remote-control solution that can be mounted and dismounted on machines very quickly.
Remote control aims to increase safety, comfort and productivity by distancing the operator from dust, noise, vibrations and other hazards encountered on job sites. For increased safety, the system also features an emergency stop button and drop and tilt detection.
In demolition environments with poor air quality and distracting noise, the system allows the operator to work from a distance, free from dirt, dust and noise, whilst in the waste and recycling industries, the remote-control solution allows operators to handle dangerous or toxic materials from a safe distance, minimizing the risk of exposure.
Installed in a matter of minutes, the new remote-control system allows operators to leave the cab and control their Bobcat loader remotely. It is compatible with Bobcat skid-steer, compact track and all-wheel-steer loader models equipped with the company's selectable joystick controls.
'After comprehensive testing and licensing of the new Remote Control System, Bobcat is the first company to provide an attachment product of this type as original 'plug and play' equipment, rather than offering it as an add-on development from a third party,' said Alastair Jones, Bobcat Attachments' district manager for the UK, Ireland, Nordics and Baltics.
'The remote-control system can be used in many applications with the focus on limitless visibility, the ability to communicate with the surroundings without the need to be present in the cab, comfort enhancement for applications with noise, vibration and harshness, or even in dangerous areas,' explained Mr Jones.
Every remote-control kit is protected by a dedicated password, with two-way communication providing all the important information about the loader (fuel and oil status, warnings etc) on a 3.5in transflective colour backlit LCD display.
The system provides most of the functions that can be performed via direct loader operation, including throttle, light, creep and float controls, and is very intuitive to use, although Bobcat dealers will provide training for end users.
Supplied with two exchangeable batteries offering a 20-hour battery life and housed in a rugged and weatherproof enclosure, the remote-control system comes with a protective case for transporting it from one job site to another.