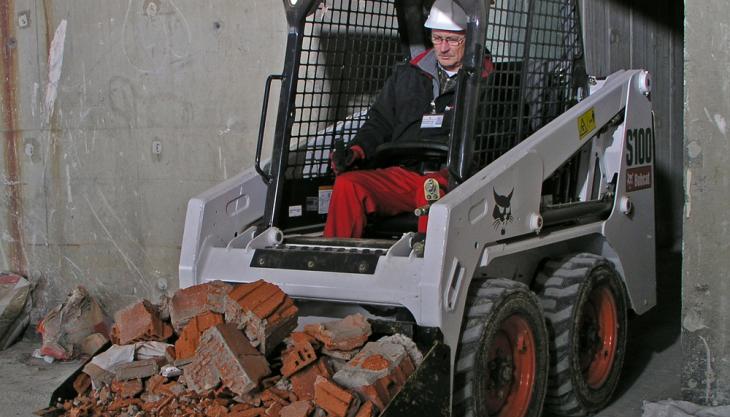 Company increases customer benefits with innovative new developments and an upgraded machine 
BOBCAT have announced a number of new developments in the company's compact loader range for Europe, Middle East and Africa (EMEA), including, among others, Auto Ride Control and heated cloth Air Ride seats.
In addition, Bobcat have launched the S100E model for EMEA, an updated version of the company's popular S100 skid-steer loader that meets Stage V emissions regulations. Like the S100, the new S100E skid-steer loader meets customer requirements for manoeuvrability, size, weight, uptime protection, lift capacity and push force for this loader class.
Available as a factory option or as an aftermarket kit, the new Auto Ride Control system improves operator comfort when driving with a load in the bucket, especially on rough terrain. This feature lets the operator lock in travel at a speed of their choice, so that they only have to think about where they are going without feeling the need to avoid bumps or any other surface level obstacles.
Benefits include reduced spillage; more stability when moving up and down with a load/weight; and the ability to drive faster on rough terrain. It is also an intelligent system, providing increased efficiency, performance gains and a more comfortable ride with fewer bumps, simply through the flick of a switch.
The new heated cloth Air Ride seat is available on the Bobcat 600-, 700- and 800-Series compact loader models, providing a more comfortable alternative to the previous vinyl Air Ride seat, whilst on the 400- and 500-Series models, Bobcat have introduced a cloth suspension seat, although the vinyl Air Ride seat remains available through the company's aftermarket service.
The incorporation of cushioned lift and tilt cylinders as standard offers advantages when the loader's lift arms are lowered and/or the Bob-Tach system is tilted. The slowing − or cushioning − effect increases overall performance and improves comfort, allowing the operator to work faster with softer impacts, reducing spillage while tilting and ensuring that the machine feels more stable when in use.
An auto reversing fan helps to keep the grille clean and clears out dust that can clog the cooler, whilst LED side lights, available in kit form, improve the operator's all-round visibility from inside the cab. Also, to further enhance visibility to the rear, Bobcat have introduced a new rear-view camera kit – the basic system combining a 4.3in display and 118° tailgate-mounted camera.
New S100E skid-steer loader
Compact dimensions – a height of 1,878mm, length without attachment of 2,262mm and width over the tyres of 1,182mm – allow the new, state-of-the-art S100E skid-steer to manoeuvre easily and efficiently in confined spaces.
Featuring a strong and durable frame design, increased operator comfort and easy serviceability thanks to its transverse-mounted Stage V compliant Kubota V1505-T4FST5 diesel engine, which provides 18.2kW of power at 2,300 rev/min, the S100E offers a rated operating capacity of 457kg and a tipping load of 915kg.
The SE100E's low operating weight of just 1,860kg (with bucket) allows for easy transportation on a trailer, whilst the full-comfort cab is said to feature the most advanced electronic controls and instrumentation available for this size of machine, providing a new level of diagnostic capability and control.