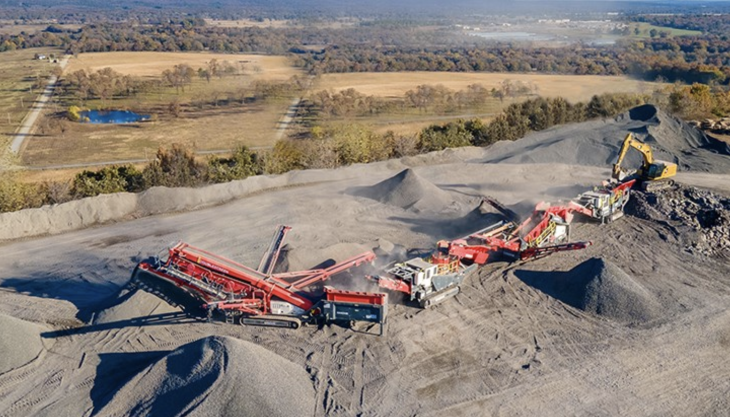 New aggregate venture gets off to a flying start thanks to Sandvik mobile crushers and screens
BLUEBIRD Stone have a rock-solid portfolio of natural stone products, but now the company's crushed rock business is surging too. In 2020, after the eastern Oklahoma-based company saw an opportunity to delve further into the aggregate market, Bluebird Stone's owner, Tommy Caldwell, in partnership with local distributors Crushing Tigers, expanded his range of Sandvik equipment.
'I was only crushing our rock for roadways in our own quarry, though sometimes I would sell the material when someone came into the yard and wanted it,' said Mr Caldwell. 'Now we're doing 1,000 tons of crushed rock a day, five days a week.'
This was a sea change for the 18-year-old company. Bluebird Stone's reputation was built on natural countertop and tabletop stone slabs, and construction-grade veneer and patio flagstones. The company is one of the largest producers of natural and dimensional stone in the Midwest and this year will turnover some US$8 million in that area of production.
All of Bluebird's products are extracted from eight operating quarries. To begin to produce meaningful quantities of crushed rock products from some of that raw material, Mr Caldwell looked to Sandvik representatives Crushing Tigers and together they selected a set-up of four tracked machines to produce the aggregate.
Production begins with a QJ341 jaw crusher powered by a 375hp engine and capable of handling 440 tons/h of material. It crushes stone to four inches and under, can reverse feed the material in case of jams, and is hydraulically driven to facilitate start-ups under load.
The crusher feeds a QE342 scalper which ferrets out any one-and-a-half-inch stone. Powered by a 132hp engine, the 31-ton unit is well suited to high a throughput of dense materials. Bluebird Stone material is notably hard and abrasive, but the scalper features an especially wear-resistant steel feeder and hopper to resist the abrasion.
A QH332 Hydrocone crusher is next in line – a versatile machine with a choice of six crushing chambers and a 350hp engine that does the hard work of further reducing the jaw crusher feed.
The final component in Bluebird Stone's aggregate production process is a QA451 triple-deck Doublescreen. This delivers fine product less than three quarters of an inch in diameter, as well as full three-quarter-inch rock for concrete, and lateral line rock that ranges from one inch to one-and-a-half inches in size. Mr Caldwell traded in an older screen for the new QA451, which utilizes two screenboxes to maximize throughput and screening efficiency.
'He needed the Doublescreen to make their fine aggregate for concrete material,' said Darragh Bonfil, territory manager at Crushing Tigers. 'We pride ourselves on knowing our customer's rock and are totally familiar with Tommy's flagstone.'
The alignment of Sandvik crushers and screens proved itself over the first year of operation and the Oklahoma company now has a flourishing aggregate product line. 'It was exciting to see what we did our first year in business,' said Mr Caldwell, who now hopes to see a 25% year-upon-year increase in the business.
For a company to successfully reposition itself in the marketplace as Bluebird Stone have might be regarded as audacious. Had the new market initiative backfired and alienated the company's core clientele for natural stone products, it might even have been deemed foolhardy.
But the complementary move into aggregate production and sales did succeed and continued growth seems certain with highway and bridge infrastructure again on the national agenda in the US. Credit for this success goes to Bluebird Stone's confident leadership and its trust in a line of versatile equipment that took the company to where a new market awaited.