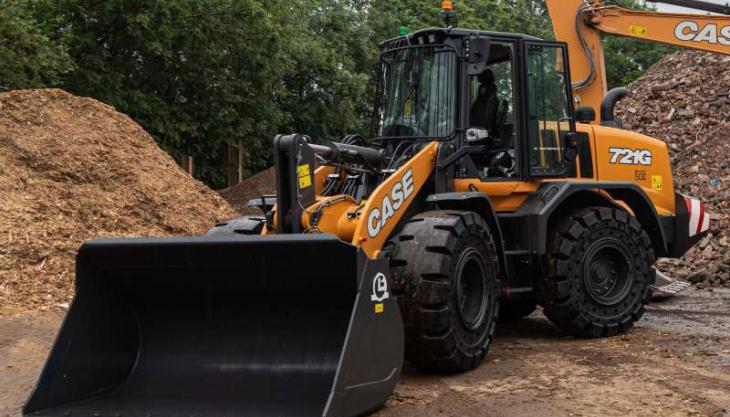 Company purchases specially modified machine to fulfil waste-management duties
BLACKPOLE Recycling of Worcestershire have taken delivery of the UK's first new CASE 721G wheel loader from authorized dealers Warwick Ward.
At the customer's request, extensive modifications have been made by Warwick Ward to ensure the 721G loader can perform at optimum levels in demanding waste-handling applications.
Key features of the mobile plant include: comfort ride solid tyres to further protect the machine from punctures; extra belly guards; a waste ejector ram guard and an external screen guard. The machine is also fitted with a Venturi kit for protection and working in dusty environments.
Designed to maximize productivity and reliability, the latest G-Series wheel loaders now boast a new payload system that provides accurate weighing data as and when required, such as real-time bucket weight, pass counts, accumulated/running weight and job tracking.
The 721G is also more intuitive and operator friendly than its predecessor, thanks to a new digital touchscreen display and three new colour-coded configurable buttons on the right armrest, to keep operators focused on safe and productive materials movement.
Ensuring mobile equipment is operating efficiently and at an optimum level are key prerequisites in the waste-recycling sector. The new factory-installed tyre pressure monitoring system (TPMS) on the 721G loader will not only help customers save on costly tyre repair bills and machinery downtime, but also prolong tyre service life and increase equipment uptime. 
Blackpole Recycling will benefit from the new G-Series loading shovel's parallel-lift functionality (with Z-bar configuration), which gives the operator the power and ability to lift heavy loads.
CASE have also made their SiteConnect and SiteWatch technologies standard built-in features on all new G-Series Evolution wheel loaders, including the 721G. This gives fleet managers and owner operators real-time diagnostic and telematic capabilities to improving efficient use of machines whilst cutting fuel consumption and increasing their bottom line.
'I am delighted that the first sale and delivery of the new CASE 721G wheel loader with its expanded feature set has gone successfully,' said Joseph O'Grady, business director for CASE Northern Europe.
'The machine is designed to work safely in the most extreme conditions and for Blackpole Recycling will also demonstrate that it simplifies operations by increasing uptime, improving productivity and increasing profitability.'