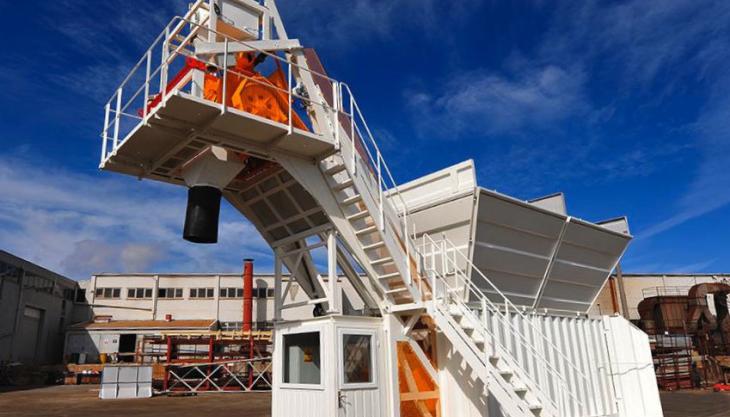 Berkshire Engineering Supplies commit to stocking three batching plants for immediate delivery in the UK
HAVING recognized a growing demand for the immediate availability of a range of concrete batching plants for a number of imminent projects cross the UK, Berkshire Engineering Supplies Ltd (BES) and MEKA have committed to holding three complete concrete batching plants in stock in the UK, ready for immediate delivery.
BES say they have used their extensive knowledge and experience to specify the three plants, to meet the demands of the industry and the needs of a variety of applications and projects. The three stock plants are the MEKA 100K static plant, the MEKA 100M mobile plant and the MEKA C30 compact plant.
Designed for high production outputs, the MEKA 110K static plant features a fully galvanized and clad mixing tower equipped with four 50-tonne aggregate bins, a 4.0 cubic metre holding hopper, a 2.25 cubic metre twin-shaft mixer and two 75-tonne mobile silos. The entire plant is built on steel frames to minimize above-ground foundations.
The quick and easy to install MEKA 100M with its integral road-going chassis provides a complete high-production mobile solution that can be moved from site to site. It includes four 25-tonne aggregate bins, a mobile aggregate pre-feed system for ground-level loading, a 2.0 cubic metre twin-shaft mixer and two 75-tonne mobile silos.
The MEKA C30 (pictured) is a compact containerized solution suitable for smaller projects requiring outputs of up to 30 cubic metres per hour. The plant is quick and easy to install and comes complete with four 15-tonne aggregate bins, a 0.5 cubic metre single-shaft mixer and one 50-tonne mobile silo.
In addition, all three plants include a microwave moisture-measurement system, a mixer wash system (excluding the C30), an additive system, and a control system, with all associated components being reliable, high-quality proprietary brands, such as WAM filters and screws.
According to Berkshire Engineering Supplies, MEKA concrete batching plants are rapidly becoming the plant of choice, thanks to their quality, reliability and economic pricing.
MEKA have been producing concrete equipment for more than 30 years and their batching plants have been supplied to many of the leading concrete producers and construction companies in more than 70 countries around the world, including many in the UK.