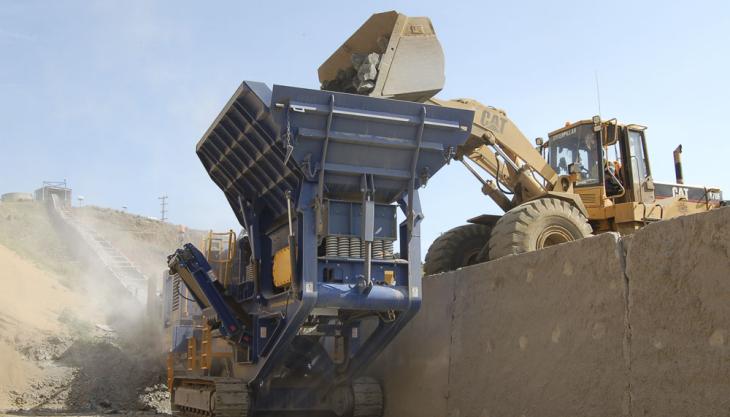 When the Barro Group required a mobile crushing solution for their Mountain View Quarry in Victoria, Australia, they approached Sandvik.

Mountain View Quarry is situated near Drysdale on the Bellarine peninsula east of Geelong, and has been mined for its high-grade basalt for the past 25 years. The basalt has a density of 2.9g/cm³ and is used in the production of Barro's premium pre-mixed concrete. It was estimated that the basalt would run out in two to three years and in order to extract it cost effectively from the base of the deep quarry a proven mobile crushing solution was required. The critical issue was the ability to easily move the crushing unit in line with the blasting and extraction operations and, of course, remove it at the end of the quarry's life to another quarry to continue its operation and return on investment.  

A Sandvik QJ 330 (formerly Fintec F1107) mobile jaw crusher was selected by the Barro's management team in consultation with Precisionscreen, the exclusive agents for Sandvik mobile crushers and screens in Australia.

The high crushing speed of the Sandvik QJ330, together with its large feed opening, provides high rates of production and reduction ratios. According to Rob Micallef, Mountain View's on-site manager: 'It produces 140 tonnes/h which is indeed impressive given the density of the local basalt.'

The tracked Sandvik QJ330 is specifically constructed for high mobility. The feed hopper has hydraulically foldable sides for easy transport and quick set up on site. It took just one hour to set the unit up on its current site in the quarry and its mobility has been advantageous for maintenance and general housekeeping at the site.  

The chassis facilitates easy inspection and access to maintenance points. Platforms around the diesel power pack provide access for inspection and service. A rotating warning beacon and siren provide visual and auditable warnings of movement.

From an operational point of view, the company has been impressed with the Sandvik QJ330 on a range of attributes including:
reliable start up
quick and easy hydraulic settings that hold
manual versus automatic option
reverse crushing action to relieve blockages
hydraulic legs for increased stability
automatic central lubrication system to increase productive up-time
good fuel efficiency (250 litres/9h crushing).
The operation of the Sandvik QJ330 is backed up with training, technical and on-going service support from the team at Precisionscreen. 
www.construction.sandvik.com