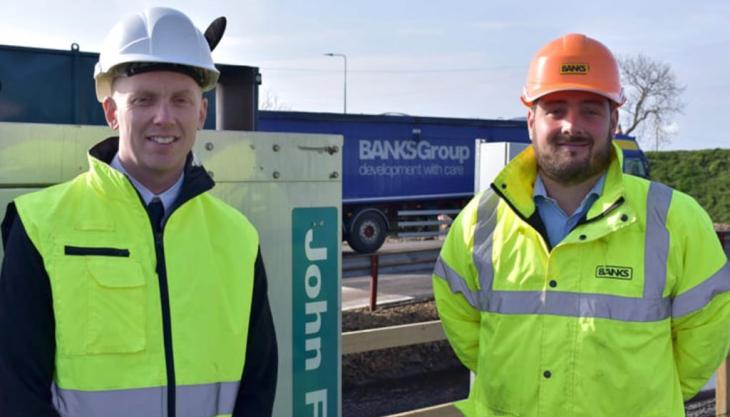 Mining firm's investment in local contractors at Bradley surface mine passes £1.5 million mark
THE value of contracts commissioned by Banks Mining from local companies for equipment and services at their Bradley surface mine has passed the £1.5 million mark.
An analysis of contractor spend since the Co. Durham-headquartered firm started preparatory work at Bradley early last year has found that more than 95% has so far gone to businesses and service providers based in north-east England, with the closest suppliers being based in Consett, just a few miles from the site.
The contracts range across every aspect of the site's development and operation, including communications technologies, power generation, equipment supply, IT infrastructure, construction services, landscaping and safety equipment.
The Chester-Le-Street depot of generator hire business John F Hunt Power, which employs 16 people, has been awarded a multi-year contract to provide power to the Bradley site's office accommodation and wheel-wash facility, and provided a bespoke solution for the project which is significantly reducing fuel usage on site.
Graham Allen (left of photo), regional sales manager at John F Hunt Power, said: 'While the office's need for power is constant, the wheel wash is only needed for specific tasks, so rather than providing a single generator that works all the time, we've put individual machines in place which can be put on standby when they're not needed.
'Much less fuel is therefore being used on site than would otherwise be the case, with carbon dioxide emissions reductions resulting as well as substantial cost savings.
'Having this sort of long-term contract with a local employer gives us a useful degree of certainty about how we can plan our business operations, and if any issues arise, we're just down the road and can be on site very quickly to put things right.'
More than half of the 41 people currently employed by Banks Mining at Bradley live within five miles of the site, whilst almost all of them live within a 15-mile radius of it.
The company has also recently taken on five local apprentices who are now progressing through a 12-month training programme and working towards achieving nationally recognized vocational qualifications.
Lewis Stokes (right of photo), community relations manager at The Banks Group, said: 'We have a long-standing policy of choosing to work with firms based in the communities around our projects wherever possible, and we are very much living up to this promise at the Bradley site.
'The range and quality of local suppliers available to us is central to enabling our highly skilled team to operate the site in the safest, most efficient and most environmentally responsible way possible, and we will continue to invest heavily in our fellow north-east firms as the project progresses.'