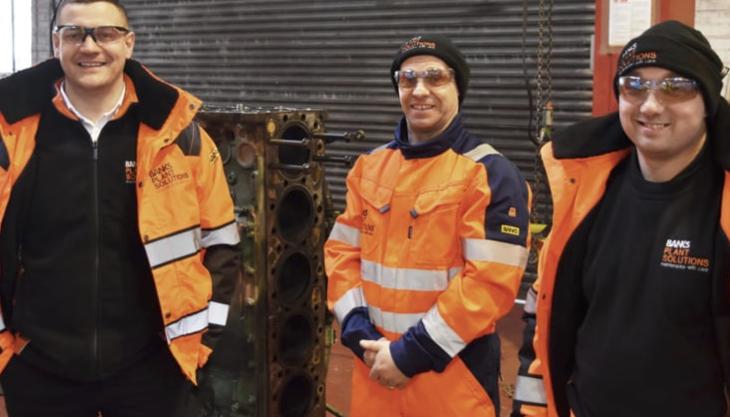 Mining company extends its diversification with launch of bespoke plant-management service
THE Banks Group are launching a new service business aimed at sharing the expertise within their plant maintenance and management team with clients across northern England. The Co. Durham-based firm is looking to build on more than 40 years' experience of owning, maintaining and managing a diverse fleet of heavy plant, construction and ancillary equipment via its new Banks Plant Solutions brand.
Banks' 33-strong plant and equipment maintenance team has extensive experience of maintaining, servicing and repairing original machinery from manufacturers including Caterpillar, Komatsu, Volvo and JCB, and works on equipment ranging in size from small ancillary vehicles right up to 500-tonne hydraulic excavators.
Additional resources and personnel are being added to the Plant Solutions team to support the launch of the new business, which will initially focus on building its operations across north-east England, Cumbria and North Yorkshire. Key target markets for contract work including quarrying, infrastructure, demolition, waste and recycling, forestry, and the plant hire industry.
Stephen Banks, business development manager at The Banks Group, said: 'Our practical experience of both operating and maintaining equipment of all sizes gives us a clear insight into the needs of both sides of the business, and the knowledge that our team can offer is second to none.
'Businesses operating in our target markets need to know that their plant equipment will be serviced for the minimum possible amount of time, to minimize downtime. The preventative maintenance programmes we offer and implement will ensure this is the case.
'Our aim is to initially focus on parts of the country where we already have an operational presence, but there's every opportunity to extend the services we're providing nationwide in time.'
Founded in 1976 in Co. Durham, The Banks Group began life operating surface mines under licence from the National Coal Board but have since diversified into a range of other markets, including commercial and residential property, waste management and renewable energy, and now employ more than 300 people.
The company is also thought to be unique in having used revenues from coal mining operations to drive its successful diversification into the onshore wind sector over the last 15 years. Banks Renewables is now one of the UK's leading independent owner/operators and later this year will have an operating portfolio of 10 onshore wind farms with a total production capacity of over 222MW.
Gavin Styles, executive director at The Banks Group, commented: 'Our history is one of successful diversification into a range of new markets wherever opportunities have arisen and setting up Banks Plant Solutions is the latest stage of this continuing evolution.
'We operate in a highly regulated and environmentally sensitive industry and have developed world-leading technologies and solutions to meet many of the challenges we've faced through applying the sort of innovative thinking that we're now offering to clients.
'We've been creating high-skilled and high-paid employment opportunities in north-east England and beyond for more than four decades now and are continuing to look for innovative ways to use our team's knowledge and expertise in new markets.'