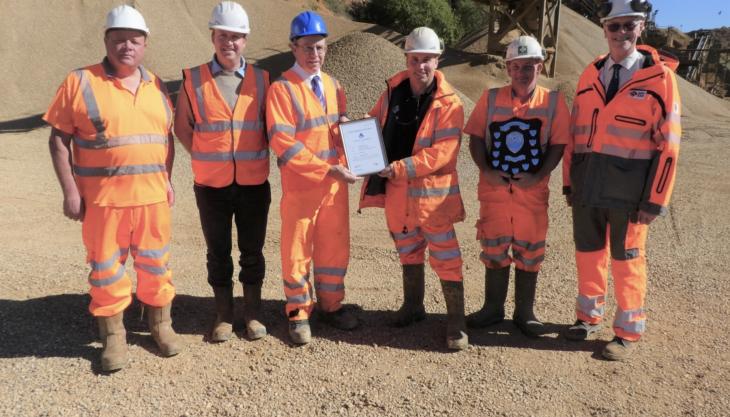 Bucks sand and gravel firm awarded BAA Certificate of Assessment of Operating Standards and Quarry of the Year shield
SPRINGFIELD Farm Quarry, a family-owned sand and gravel operation near Beaconsfield, in Buckinghamshire, was awarded a Certificate of Assessment of Operating Standards as well as the Quarry of the Year shield at this year's British Aggregates Association AGM in Buxton.
The 'Scheme', as it is known for short, is an independent assessment of the standards employed throughout the whole quarry and is recognized as one of the best methods of improving health and safety in quarries, particularly for SME operators who may not have the all in-house facilities of the larger quarry firms.
A particular feature of the of the Scheme is that it involves all persons who work at the quarry, in order to promote a team effort and instill the idea that health and safety is everyone's business and not just a policy from above.
The Springfield Farm Quarry site occupies an area of 250 acres and, as well as sand and gravel extraction, is home to a very large landfill operation managed by a specialist waste company under the watchful eye of the quarry management.
Also on site and operated by other companies is a large ready-mixed concrete plant, a mortar plant and an aggregate bagging facility. The majority of quarry production is used on site with only around 40% of production going directly out of the gate.
The sand and gravel deposit at the site is relatively deep, with three working benches. The material is excavated by a 30-tonne hydraulic excavator and taken to the processing plant by three articulated dumptrucks. As the deposit varies within the benches, the dumptrucks tip on to different raw stockpiles depending on the type of material being brought from the face.
The stockpiles are located adjacent to the processing plant feed hopper, and it is the job of the shovel driver to select by eye the blend of material going into the processing plant. This depends on the particular demands of the day, be it for coarse sand, fine sand or a blend of different sands and gravel. The processing plant is a fixed operation and includes crushing, washing and wet screening equipment.
One interesting point to note about Springfield Farm Quarry is its location. Not only is it situated on the edge of an affluent Buckinghamshire town, but it is also adjacent to the M40 motorway. Despite this, and thanks to good site management over the years, the site is so well hidden that a stranger to the area would not know the quarry or landfill site even existed.