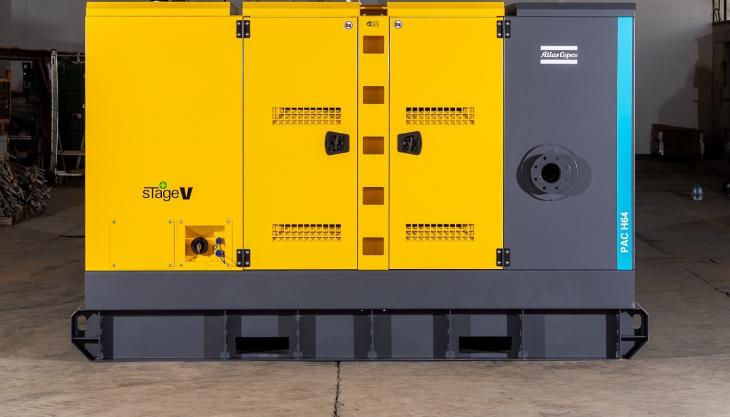 New pump for high-pressure applications designed for prolonged product lifespan and increased uptime
ATLAS Copco have launched the PAC H pump for high-pressure applications, which is designed to reduce downtime and prolong lifespan, saving service operational expenditure.
Part of Atlas Copco's Head series, the PAC H is a centrifugal pump that can handle liquids containing solids of up to 89mm (3.5in) in size, making it particularly suitable for industrial applications, including quarrying and surface mining.
The addition of the PAC H completes the extensive range of pumps available from Atlas Copco and means that specifiers and end-users can source all their pumping requirements from a single supplier.
The PAC H pump has been designed with a number of features to ensure it performs reliably, for longer and has a low cost of ownership.
For example, the exclusive closed impeller is equipped with deflector vanes that keep the mechanical seal clean and free of detritus. This helps the mechanical seal last three times longer. Moreover, it eliminates the need to use flush water to keep the pump clean, thereby offering significant energy and cost savings over the pump's operational lifetime.
Also, the semi-cartridge seal design on the PAC H pump is unique. It allows change-out without dismantling the pump and makes the lip seal and impeller easily accessible, thus reducing downtime and simplifying maintenance. Unlike many competitor products which offer cartridge seals as an option, this feature comes as standard on the PAC H.
Other features that minimize downtime and make maintenance easier include the innovative Atlas Copco hinge kit – a 'swing door' that allows quick and easy access to the pump's internal workings – and a single bolt to remove the impeller.
Bolted wear rings make for precise and simple replacement compared with pressed alternatives, and link belts are used to allow changeovers without having to dismantle the entire wet end of the unit, reducing mean time to repair by up to 30%.
The new PAC H pump range from Atlas Copco is fully EU Stage V compliant and features a 120% fully leak-free structure, making it a clean and green machine. Moreover, the standard diaphragm vacuum pump has no carry-over of pump media and hence the pump has zero contamination towards surroundings.
PAC H pumps are available in sizes up to 150m head, with a capacity of up to 1,200 cubic metres per hour. Their compact design is up to 30% smaller than equivalent pumps on the market, freeing up valuable space and increases the operational efficiency.
PAC H pumps also take advantage of digital technology, featuring QR codes that mean essential information about parts and spares is just a scan away. Users can also take advantage of the fleet link secured and remote monitoring feature that means they are always in control of pumping operations.
Like all pumps in the Atlas Copco range, the PAC H comes with full after-sales support and ready availability of spare parts, as well as the option of product training, via the company's global network of customer centres.