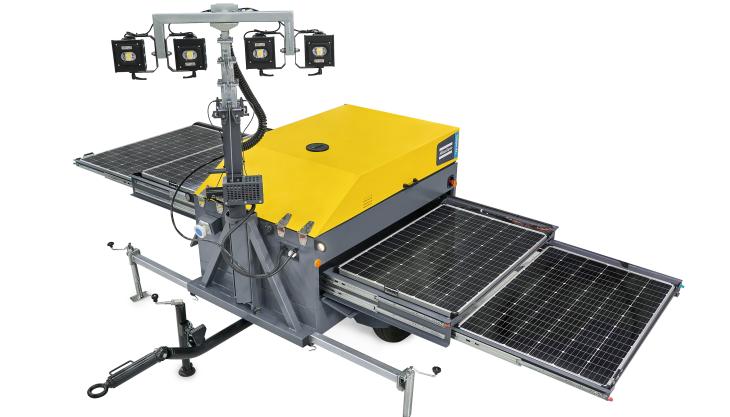 New user-friendly solar-powered LED lighting tower helps improve sustainability on site
ATLAS Copco Power and Flow have launched a new user-friendly solar-powered LED lighting tower, the HiLight S2+, which provides good visibility whilst allowing sites to increase their sustainability and comply with CO2 emission and noise regulations.
The HiLight S2+ is a next-generation lighting system featuring four 90W LED floodlights that deliver 2,000 square metres of light coverage. The tower is robust, easy to transport and comes ready to use.
The lights are easily manoeuvred into place, whilst the solar panels simply pull out from the canopy and their position can be adjusted to best align with the sun's location to achieve maximum solar yield.
As HiLight S2+ uses solar energy, no refueling is required and external cables are not necessary. Moreover, the lights have a dimming function to prevent light and energy from being wasted unnecessarily, which further increases autonomy.
The new solar lighting tower provides fully autonomous operation where solar yield is greater than energy demand and can provide light all year round.
In situations where energy demand is greater than solar yield, for example during winter months, the tower can be charged using Atlas Copco ZenergiZe energy storage systems or any external power grid.
The batteries can be fully recharged with solar energy in eight hours or via an external power source in just three hours.
The HiLight S2+ has also been designed with a pop-up canopy for better serviceability, whilst its minimal maintenance needs help reduce downtime and operational costs, resulting in a quick return on investment.
Offering a robust alternative to temporary diesel lighting, the HiLight S2+ lighting tower can work at temperatures from –5°C to +50°C and operate reliably at high altitudes without derating, making it well suited to remote work sites.