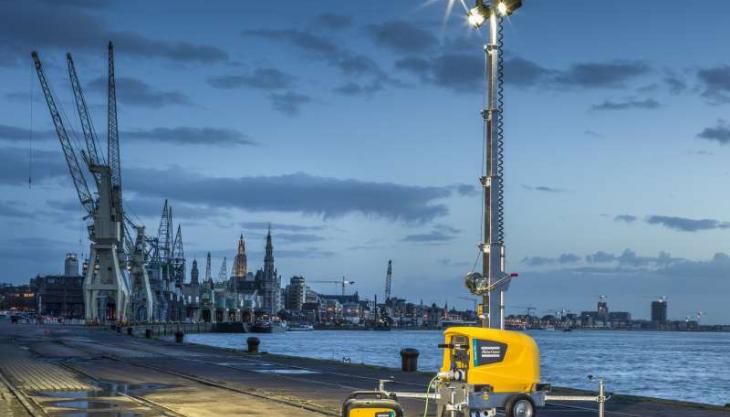 New plug-and-play LED electric lighting tower designed to survive the toughest environments
ATLAS Copco's new plug-and-play HiLight E3+ electric lighting tower is designed to operate reliably in the most demanding conditions. Its internal electronics, control panel and connectors are protected from the elements by the company's innovative HardHat canopy, while the complete assembly, which includes a heavy-duty 7m mast, has a certified wind stability limit of 100km/h.
'The HiLight E3+ lighting tower's environmental resilience extends application opportunities, improves reliability, reduces total cost of ownership, and preserves resale values. Equally, though, it offers superior performance during operation,' commented Félix Gómez, Atlas Copco's divisional product marketing manager for lighting towers.
The lighting tower's luminosity and distribution have been improved thanks to four high-efficiency 160W LED lights to give 3,000 sq m of illuminated coverage whilst being 15% brighter. This ensures a brighter, safer and more productive site, whilst the lights also reduce maintenance costs due to a bulb life-expectancy of 50,000h.
The lighting towers offer great through project deployment efficiency. Up to 32 of the compact units can be transported on a standard 13m truck, from which they can be offloaded and manoeuvred using their forklift pocket, crane lifting eye and/or wheels. Then, they can be plugged into a mains supply, auxiliary power source or generator to allow fast set-up through the user-friendly control panel.
New features include galvanized heavy-duty outriggers, wider wheels and an optional electric winch. With no mechanical parts to maintain, and no liquids or emissions, the lighting tower is environmentally friendly and virtually maintenance-free.
The HiLight E3+ light tower operates on single-phase 50/60Hz 230V or 110V power. 60Hz versions with NEMA L5-20A sockets are also available. Furthermore, up to 10 units can be connected to one power source at 230V.
Where no mains or auxiliary power is available, the towers are well suited to partner up with Atlas Copco's portable generator ranges. For example, they are a perfect fit with the 5kW P6500 generator, which can support seven lighting towers, or the 6kW P8000 generator that supports nine. Meanwhile, the inverter technology iP models are good choices for powering lower numbers of lighting towers.