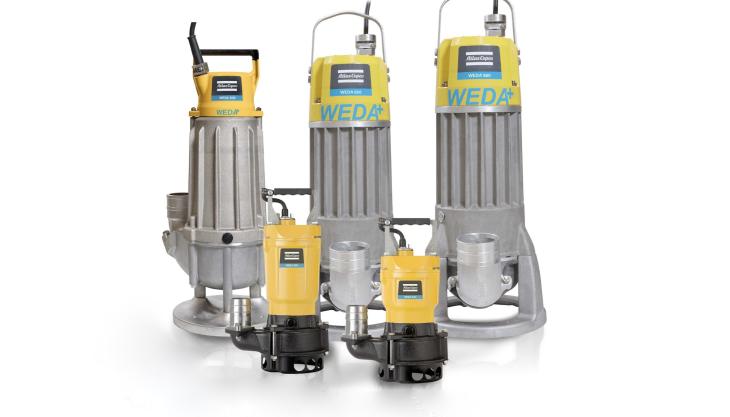 New S50 model complements existing pumps in WEDA submersible dewatering pump range
ATLAS Copco have introduced a new addition to their WEDA submersible dewatering pump range with the WEDA S50. Fitting into the S family of WEDA sludge pumps, the new model complements the other pumps in the range in terms of specifications and is designed for thick, soft, wet mud or other similar mixtures.
The technical specifications of the new S50 model place it between the S30 and the S60 pumps. It offers a maximum flow of 1,450 litres/min while pumping sludge with a specific gravity of up to 1,400 kg per cubic metre, and has a rated output of 4.8kW and a maximum solids-handling size of 50mm, which is the same as both the S30 and S60 models.
'The WEDA S50 is an ideal pump for rental companies and general contractors where they don't have to worry about what goes in the pump,' explained Hrishikesh Kulkarni, product manager with Atlas Copco's Power and Flow division.
'Accordingly, these vortex-designed pumps are ideal for abrasive media and handling solids up to 50mm. The S50 fits neatly into the existing range of sludge pumps, making our S family portfolio complete with a range from 0.5 to 7.5kW.'
The Sludge portfolio covers a wide range of applications such as cement plants, industrial process water, sedimentation tanks, treatment plants, construction sites etc.
The WEDA S50 comes with the standard WEDA+ features, including rotation control, phase failure protection, thermal switches in each motor winding, and 16-amp phase-shifter plugs. In addition, all WEDA+ pumps are fitted with a 20m cable and reinforced cable entries to ensure high resistance to water leakage. 
S50 pumps are built with hardened high-chrome impellers and volute which provides high wear resistance, whilst the aluminium alloy construction also offers high corrosion resistance. All these features combine to ensure durability and reliability in harsh environments. The low-weight materials also have the additional benefit of making handling and transportation easy.
For extra protection, the casing rib design offers external cooling to the motor in case of dry running.
According to Atlas Copco, everything about the WEDA S50 is configured for ease of operation and maintenance. Service technicians can change S50's modular seals at the job site with minimum impact on pump availability, whilst the pump has an external oil-inspection plug that makes it a simple task to perform quick inspections.
The S50 base is designed for stability while the bottom side discharge allows the passage of solids up to 50mm. It offers several options and sizes for connections and flow-direction is changeable from 90 to 180 degrees on the discharge.
As with the entire WEDA range, an extensive network of dealers and service technicians support the S50, with spare parts readily available and easy to fit.