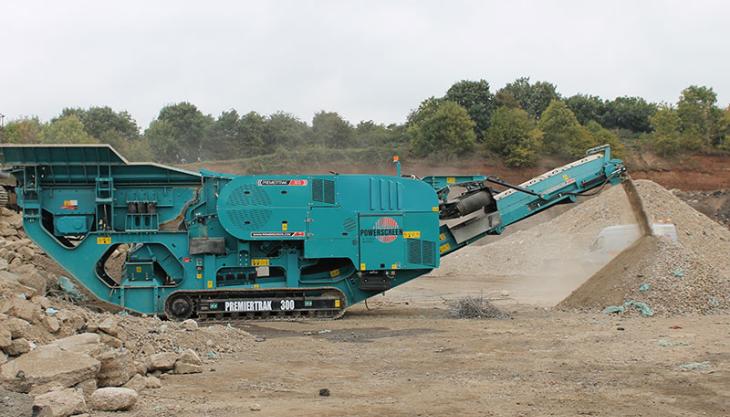 Demolition specialist acquires their third Powerscreen mobile crusher from Blue Machinery
CADISHEAD-based demolition specialists Northbank Demolition have recently purchased their third Powerscreen crusher – a Premiertrak 300 mobile jaw crusher from UK dealers Blue Machinery.
Northbank will use the Premiertrak for the processing of demolition arisings to provide a usable commodity either for the further development of projects or for sale to other users. The 32.5-tonne machine is powered by a Tier4i Scania diesel engine delivering 275hp
According to Paul Richards, managing director of Northbank, the Premiertrak 300 crusher was chosen as it has the output of some larger machines in the compact dimensions required by Northbank to access some of their tighter, more congested city centre sites. In addition, the low-speed engine combined with low engine noise means the crusher can be used in city centre locations with little noise impact on the surrounding area.
'The Premiertrak 300 is an ideal machine for our operation as its size and productivity of up to 280 tonnes per hour provides us with the ideal combination of both productivity and size,' explained Mr Richards.
Key features of the Powerscreen crusher include: hydraulic crusher setting adjustment for complete and speedy control of product size; and overload protection to prevent damage by foreign objects in the crushing chamber. This is particularly useful for Northbank as steel rebar can sometimes be present when processing concrete.
Other features include: the addition of a hydraulically lowering conveyor which minimizes downtime in case of a blockage; and large clearances in the bypass chute enhance material flow and reduce the chance of blockages when processing sticky or difficult materials. The mobile crusher is also fitted with a powerful overband magnet to allow steel to be extracted, leaving the final product as clean as possible.
With a 5 cubic metre capacity hopper, the Premiertrak 300 unit is suited to being loaded by the contractor's 25-tonne Doosan excavators and when coupled with a 20m tracked conveyor, offers the company a very productive materials process.
'The build quality is second to none as far as we are concerned and it is perfectly set up for the demolition industry,' commented Mr Richards. 'We didn't look at any other manufacturer as the 300 crusher fits our needs precisely. It's well built, reliable, and we get good service and back up from Blue. It is also easy to move and very economical to run. We simply couldn't ask for a better crusher for our operation.'