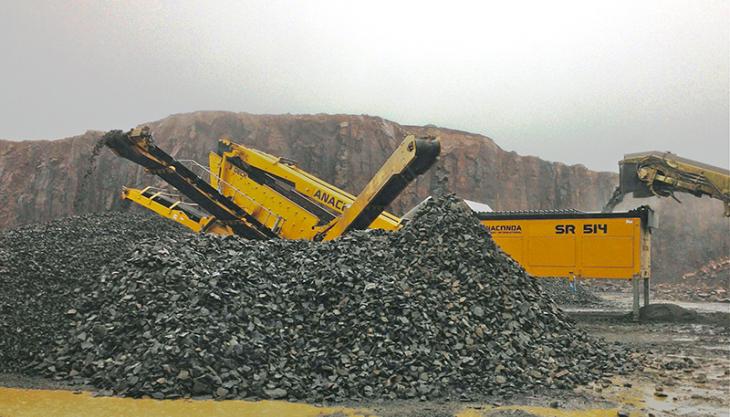 Company to show recently introduced two-deck finishing screen and newly improved scalping screen
ANACONDA Equipment say they have made some serious headway in the UK market over the last 24 months and will be exhibiting at Hillhead once again to show the latest products from their range. The company's range of mobile screens has increased significantly since the launch of the DF410 scalper in 2010 and now comprises a total of 10 mobile screens as well as an assortment of wheeled and tracked stockpiling conveyors.
'When you take a minute to take stock of what the team here have designed and built over the last four years, you cannot fail to be impressed. We launched our first tracked screen at Hillhead in 2010 and we are coming to this year's show with a very good array of equipment,' said sales director Con Gallagher.
'It is testament to our team back in Ireland that we are able to stand shoulder to shoulder with the more established companies within our sector and we have plans to extend the range even further over the next 12 months.'
At this year's show, Anaconda will be exhibiting the SR514 two-deck finishing screen. Although this machine has been on the market for the last 12 months, Hillhead will be the first time it has been shown to a mass audience.
The SR514's 14ft x 5ft double-deck box offers three-way separation of material and is widely used for fine sizing of product. Powered by a 100hp Cat 4.4 engine, the machine's key features include a tipping or vibrating grid, variable-speed belt controls and minimum set-up time to maximize production.
Anaconda are also set to launch their newly improved DF512 scalping screen, which is said to retain all the key features of the previous model but has been reworked to include two- or three-way separation of material.
'Shows are always a great platform for meeting new customers, spending time with your existing customers and dealers, and off course to discuss new projects. It's great to catch up with sales and service teams from around the world and bring them up to speed with what's coming up,' said Mr Gallagher.
'The most exciting thing about this year's show, though, is the position we are now in in the UK compared with two years ago. Anaconda UK and CDP Plant have come on board since then and they have done a fantastic job for us in such a short space of time.'