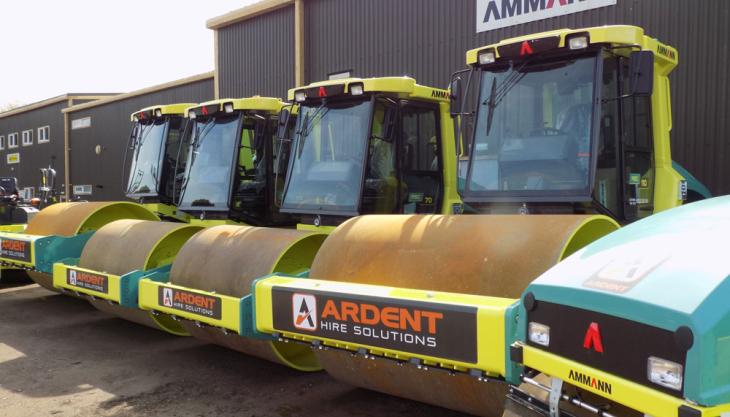 UK plant hire firm places order for more than 100 new Ammann compaction machines
ARDENT Hire Solutions, one of the UK's biggest plant hire firms, have placed an order for 100-plus new Ammann rollers in a deal worth around £4 million. The machines, to be supplied by distributors A&Y Equipment Ltd, will update and complement an existing fleet of Ammann rollers located throughout Ardent's 14 nationwide depots.
The new fleet deal is made up of a variety of compaction machines, including trench rollers, light tandem rollers and single-drum self-propelled rollers. The trench rollers will be the latest Rammax 1575 model, a machine that is completely remote-controlled with an articulating and oscillating central joint, which gives permanent ground contact and much better stability.
Three versions of ARX tandem rollers will be included in the order, ranging from the ARX12 (smallest 80cm drum width) and ARX26 (120cm) models up to the ARX45 (138cm) unit that offers a compaction output of 55kN.
All three ARX rollers give the operator excellent, unobstructed views to the drums, with two frequency settings and centrifugal forces available. An electronic drive lever allows for smooth starts and stops, which is ideal for working on asphalt. According to Ammann, the ARX range offers the lowest hand arm vibration figures of tandem rollers this size.
The largest machines in the order are the 17-tonne ASC170 units, which are said to deliver industry-leading compaction outputs via their advanced vibratory and amplitude systems.
Despite the size and weight of these rollers, superior traction and climbing capability are achieved through Ammann's 'no rear wheel axle' concept. This lowers the centre of gravity of the machine, thereby ensuring it is more stable with improved manoeuvrability and service access.
The same concept is also found in the ASC110 and ASC70 models, which also form part of the order. The ASC70, in particular, will be among the first rollers in the UK to be equipped with Tier 4 Final engine technology.
Tom Gleeson, commercial director for Ardent, said: 'We chose Ammann due to their market-leading products driven by innovative design. For example, with Ammann having introduced their articulating and oscillating central joint on the trench roller, we are able to provide our customers with greater safety specification and a solution to machine stability and control. Their product offering aligns with our customer demands, which made this partnership a perfect fit.'