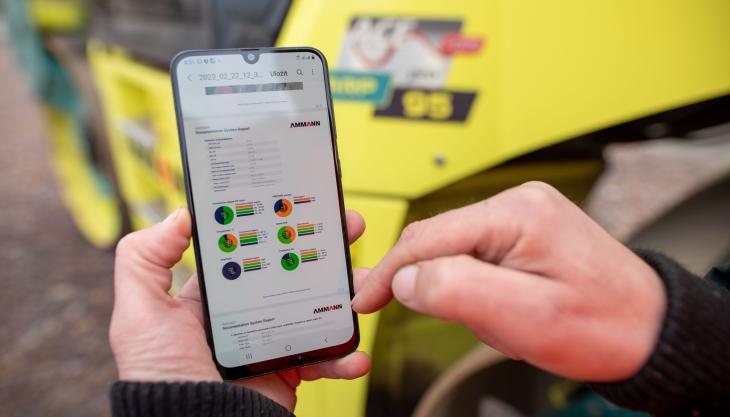 Ammann Documentation System captures and records key compaction data for further analysis
NEW technology from Ammann captures jobsite compaction data for further analysis that can lead to improved efficiency and quality control. The Ammann Documentation System (ADS) records data that are measured by Ammann's proprietary ACEforce or ACEpro intelligent compaction systems.
ADS tracks machine passes and compaction progress with GPS positioning. Each individual roller pass shows the achieved material stiffness (kB value), temperature, roller speed, and effective amplitude and frequency. It also displays (and records) the date, time, and place of compaction – with an accuracy up to 50cm.
Designed for documentation that meets international requests for continuous compaction control (CCC), the optional system is available on soil and asphalt compactors equipped with ACEforce and ACEpro and is compatible with Android and iOS mobile devices. Data are recorded via the machine control display, with no need for an external device.
All recorded data can be exported via individual report templates in PDF or via CSV files for further analysis. Jobsite data also can be displayed on a map. The data can be reviewed on a mobile device or laptop at any location. Information also can be accessed via an app.
Specifically, the stored data includes project details, machine details, jobsite details, weather conditions, load-bearing capacity (kB value) in MN/m, range of kB values (min and max), amplitude, frequency, number of roller passes, roller speed, asphalt temperature (if applicable), temperature, date and time, and GPS position with map.
The optional ACEforce system is extremely intuitive to operate, with all information in a simple format on the central display. The system offers advanced functions for effortless and safe machine operation and compaction guidance. ACEforce also recognizes if the machine is experiencing a double jump. If so, the system immediately informs the operator of corrective measures to prevent machine damage.
The ACEpro system is an automated measurement and regulation system which controls and automatically adjusts frequency and amplitude on Ammann soil and asphalt compactors. The stepless adjustments are based on continuous measurement of compacted material.