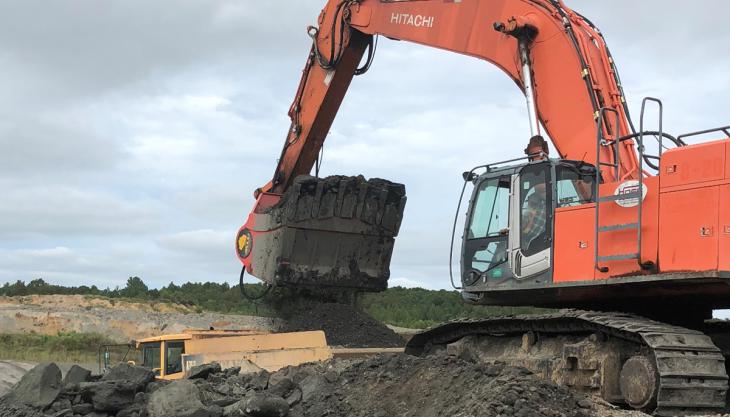 Tennessee mining operator processes material efficiently using M 3-20 excavator attachment 
ATTACHMENT specialists ALLU have helped boost the materials processing operations and productivity of a montmorillonite clay mine in Middleton, Tennessee, in the US.  
The mining operator purchased a Transformer M 3-20 series crusher/screener attachment from ALLU over a year ago and it has successfully processed extracted clay down to
–100mm.
Working with clay at a surface mine can be a problematic task, but when the material is montmorillonite and is difficult to handle, it is often a challenge for mineral operators to process mined clay into valuable products for reuse and resale.  
The US mining company was faced with the decision to either buy additional land to mine or purchase a piece of equipment to enhance its materials processing. The business chose the latter and looked at a new solution to get the clay off the boulders as efficiently and cost effectively as possible.
After researching the best type of attachment for the job, the mining operator decided to invest in an ALLU Transformer M 3-20 attachment for use on a Hitachi 650 excavator, which efficiently crushes the clay and loads at the same time, reducing both operational costs and downtime.  
The M-Series is a multi-faceted attachment tool for mining and materials-processing applications. Mounted on a carrier machine (an excavator or wheel loader of up to 160 tons in weight), the hydraulic attachment has been specially designed for providing enhanced productivity, solving chute blockages and other material flow problems, and helping with the processing and transportation of wet, sticky or frozen materials.
ALLU say by sizing the material and removing the occurrence of damaging rock at the initial stage of the process, the M-Series attachment eliminates double handling of materials and delivers maximum efficiency for the end-user. It also helps protect conveyor systems and primary/secondary materials-processing equipment. 
The mining operator is now using the ALLU M 3-20 excavator attachment as part of its overall plant operation. 
Steve Fowler, ALLU territory manager, said: 'The customer is enjoying the advantages of reduced downtime with its crusher and lower overall operating costs. 
'They're able to go back and process material that was previously considered unusable, and also mine areas they had passed over, saving them from having to buy and strip additional land. The ALLU Transformer allows them to crush, screen and load as a one-person operation.'