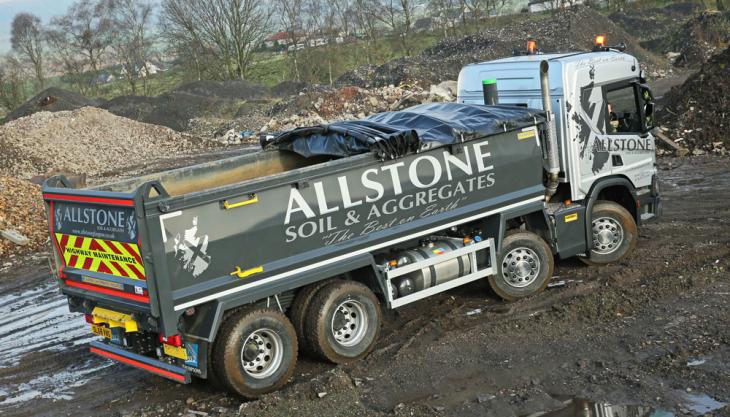 Company's new Scania P Cab tipper comes with Harsh sheeting systems and front-end tipping gear
NOW supplying up to 250,000 tonnes of topsoil a year, Allstone Glasgow Ltd's latest tipper has gained a double bonus by being fitted with both a Harsh Slide n'Go sheeting system as well as Harsh lightweight front-end tipping gear.

Stewart McNeish, director and co-owner of the business, explained: 'In our experience, the Harsh front-to-back sheeting system is the only one that guarantees 100% weather protection for the load being carried.
'This gives our clients complete assurance that each and every load will be delivered in the same condition, which in turn adds to our reputation for quality of service and delivery.
'It also enables us to deliver exactly the same amount of material each time, because wet soil is obviously very heavy and the last thing we want to be doing is having a large part of our payload being water.'

Allstone note that other advantages of the Slide n' Go sheet is that its front-to-back operation makes loading from either side of the vehicle equally easy with almost zero risk of a shovel damaging the sheet.
Also, when travelling with the sheet in the closed position the truck's aerodynamics are considerably improved, resulting in a small but worthwhile improvement in fuel economy.
Having used Harsh sheets before, Mr McNeish is also impressed by the company's backup services too. 'We had a repair issue with an early Harsh sheet, but their service people got it sorted very quickly and entirely at their own expense. That inspires confidence and trust in the whole Harsh operation,' he says.

Looking to achieve the optimum balance between payload and performance, Allstone's new Scania has been specified with the smaller and lighter P cab as well as with a lightweight Harsh combined ram and tank front-end tipping cylinder. The body is a single-skinned all-steel Loadmaster Lite from Thompsons.

'You might describe the truck we really need as a lightweight heavy-duty tipper,' said Allstone's transport manager, Robert Tipping, who added: 'We can't compromise on the ability of the truck to handle all our jobs – which also include moving stone, aggregates and recyclables – but we do want to save weight wherever possible.
'The Harsh cylinder gives us a worthwhile few extra kilos of carrying capacity. As they say, every bit helps!'

Allstone is a firm believer that running the best tippers possible delivers greater long-term productivity and cost-effectiveness. 

Stewart McNeish said: 'Our aim is for zero downtime, top fuel economy, happy drivers and maximum residual value. Right now, we think the Scania/Harsh/Thompsons combination looks unbeatable. We are absolutely delighted with our new truck.'