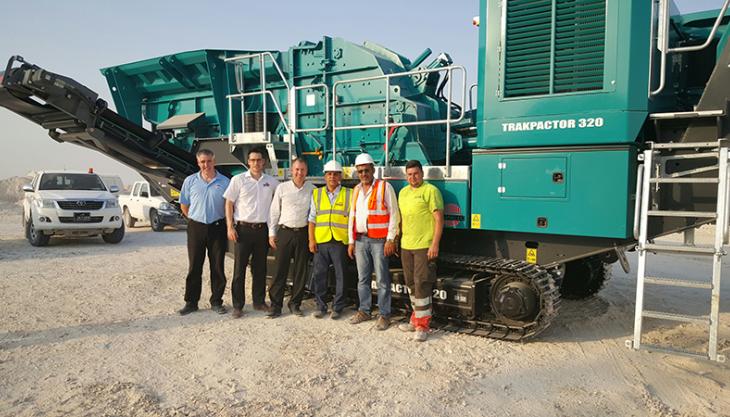 Crushing and screening equipment helping to drive development in Middle East roads projects
AL-Mohsen Engineering Co. are one of Qatar's leading specialists in the supply of aggregates to major construction companies involved in the country's many infrastructure projects.
Established just three years ago, Al-Mohsen have already become a major player in the sector thanks to their ability to supply large volumes of high-quality aggregates to market.
To achieve this, the company has invested in a range of Powerscreen crushing and screening equipment to meet the demands of some of the most ambitious road development programmes undertaken in the Middle East in recent decades.
A Powerscreen Chieftain 2100X mobile screen and Powerscreen Trakpactor 500 impact crusher were the first two machines that Al-Mohsen purchased from local Powerscreen distributors Arabian Agencies Co. (ARACO).
As their customers' demand for quality aggregates has increased, Al-Mohsen have since taken delivery of two further Trakpactor 500 units and a Trakpactor 320 impactor, two more Chieftain 2100X screens and a Warrior 2100 heavy-duty scalping screen.
Mohamad Naji, operations Manager for Al-Mohsen, said: 'The machines are excellent, we have had a great experience with Powerscreen. The equipment can sustain intense and heavy work for long hours and is very productive.
'The efficiency, productivity and uptime of the Powerscreen equipment has a huge impact on our daily activity and allows us to meet the needs of our clients, on time, which is the ultimate goal.'
During a recent visit to the site where the equipment is working, Powerscreen international sales director Stephen McCartney commented: 'Powerscreen have had a strong track record in Qatar and in the wider Middle East region for many years where our machines are well known and well respected.
'The considerable investment by Al-Mohsen and the positive feedback they have provided since taking delivery of their machines serves to underline this. We are proud that our equipment is working in the construction of some of the most ambitious infrastructure projects in the region, the legacy of which will last for many decades.'