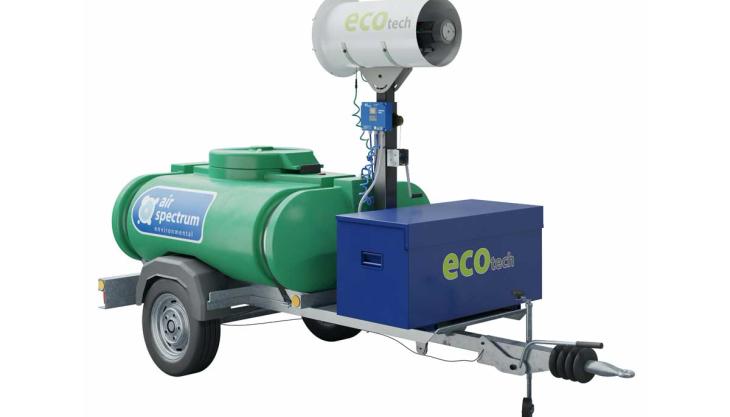 Company to demonstrate first zero-emission dust-suppression system – the ecotech Rotary Atomiser
Air Spectrum Environmental have made a commitment to improve air quality in industrial settings and advocate greener supply chains where possible. The company's first zero-emission design breakthrough in dust suppression is the ecotech Rotary Atomiser (RA).
The ecotech RA is not only a first in Air Spectrum's design portfolio, but also for UK industry. The result of three years of comprehensive development, the ecotech RA is designed to reduce carbon emissions during the dust-suppression process. Visitors to Hillhead will be able to see the ecotech in action in the demonstration area.
As a zero-emission dust-suppression misting system, the ecotech RA runs on battery power, not diesel, and is energy efficient, being able to operate for eight hours on one charge. The ecotech RA uses rotary centrifugal energy and can be programmed to provide up to 15m of misting at a variety of droplet sizes, according to need. Its 1,125-litre bowser tank allows a run time of six to eight hours, depending on flow rate settings. Other cannons in the Air Spectrum range will be available with ecotech technology in the near future.
Also on show at Hillhead will be the Rotary Atomiser PRO. This is the big brother to the Rotary Atomiser Classic – Air Spectrum's most well-known misting system. It operates with a simple on/off switch and provides a longer throw of 20m from its 1,125-litre bowser tank. Suitable for indoor and outdoor applications, it is available with a 110V or 240V generator.
Other products being presented at Hillhead will include the Rotary Atomiser Classic and its fixed-position variant, which can be wall/ceiling mounted. Both have a range of 15–20m, large tanks, and excellent efficiency.
All Air Spectrum dust suppressors, including the ecotech Rotary Atomiser, are available for purchase or hire.