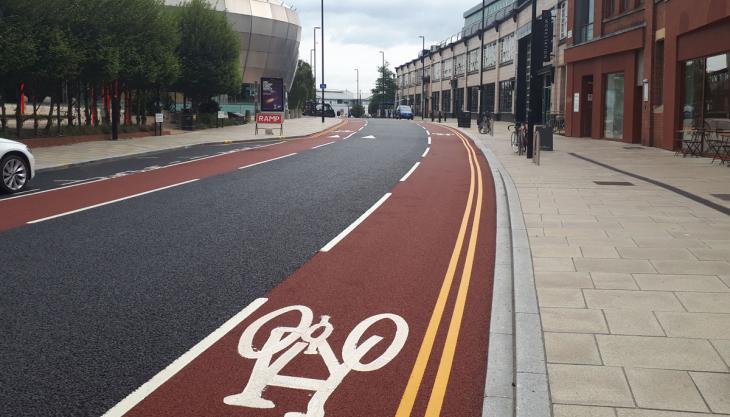 SuperColour ultra-red asphalt supplied for use on new cycle lane in Sheffield city centre
IN a bid to improve road safety through better colour demarcation, Aggregate Industries have recently supplied their ultra-red asphalt for the surfacing of a new cycle lane in Sheffield city centre.
The project comes at a time of heightened concerns over cycle safety, with latest figures showing that the number of cyclists killed or seriously injured in Great Britain increased by 29% from 2008 to 2018.
To help tackle this problem and improve road safety, Aggregate Industries have persistently called for a standardized approach to colour demarcation across the UK.
In the case of Brown Street in Sheffield, as an area of high traffic near the city centre, it was important to make the street as safe as possible for cyclists by creating a clearly marked coloured cycle lane.
The key requirement was to source high-performance surfacing materials that would not only be easily visible – a specific colour of BS381C No.537 signal red was stipulated – but would also offer the durability and longevity to withstand high traffic flows. 
Aggregate Industries' asphalt division suggested the use of its innovative SuperColour range, which can be tailored to produce a bespoke solution in line with a project's unique specifications.
With the client happy that a sample of ultra-red SuperColour asphalt met the colour and performance conditions required, Aggregate Industries supplied 190 tonnes of 14mm stone-mastic asphalt (SMA) from their Sheffield plant, along with 80 tonnes of 10mm SuperColour ultra-red Express Asphalt.
The result is a bright red cycle lane that is easily distinguishable from the rest of the road and should improve cycle safety in the area for years to come.
Joanne Wilkins, head of business development for asphalt and ready-mixed concrete at Aggregate Industries, said: 'With 1.7 million people cycling either every day or nearly every day on today's roads, having clear and coherent road markings has never been more important in helping to prevent road traffic collisions.
'From the planning stages of this project, it was vital that we used a distinguishable colour solution, along with providing the correct road materials to achieve this.
'We're delighted with the result that our SuperColour asphalt has achieved and would encourage other local authorities to adopt a similar regime when it comes to colour demarcation – as correct lane segregation will play an ever-greater role in creating a local road network that everyone can use in the safest manner possible.'