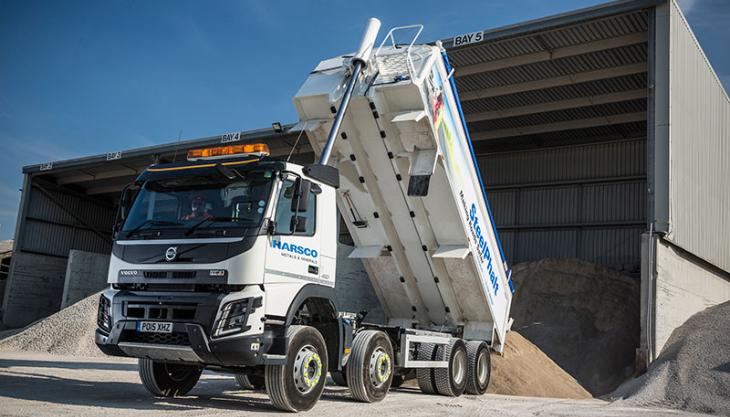 Two Volvo 8x4 tippers put to work on major contract with Harsco in Rotherham
THE latest two Volvo FMX 8x4 tippers to join the fleet of Lancashire-based hauliers A&F Haulage have been put to work on a major contract with Harsco in Rotherham.
The new FMX tippers, which operate in Harsco livery, were supplied to A&F Haulage by Thomas Hardie Commercials of Trafford Park, Manchester, and join a fleet of around 70 trucks, of which more than 50 are Volvos. A&F Haulage specialize in the transport of construction materials, particularly aggregates and asphalt.
Specification of the day cab FMXs includes Volvo's 11-litre D11-410K engine, rated at 410hp, and their I-Shift automated gearbox and B-Ride steel suspension. The trucks are fitted with Wilcox insulated bodies and Edbro tipping gear.
A&F Haulage's general manager, Stephen Creighton, is very pleased with the performance of the new Volvos. He said: 'We chose the FMX because it's a true construction truck. They're rugged and well built. Our experience of Volvo is that the FMX will stand up to the job and more. They do everything we require and our drivers absolutely love them. The visibility is fantastic and we can't fault the I-Shift gearbox.
'Ground clearance for working on sites is wonderful and reduces the potential for damage underneath the truck from raised manhole covers and other ironwork. The FMXs are also very good on fuel,' he added.
The two trucks deliver construction materials within a 160km radius of their operating centre at Rotherham. Both are equipped with the VEB+ Volvo Engine Brake, which Mr Creighton describes as an important aid to drivers, particularly on the steep gradients to be found when transporting aggregates on the trucks' regular runs across the hills of the Peak District.
Mr Creighton also singled out Volvo dealers Thomas Hardie Commercials for praise. 'We get great service and back-up from Thomas Hardie in Manchester,' he said. 'However, as these two FMXs operate out of Rotherham, they are on a Volvo Repair & Maintenance contract with Crossroads Truck and Bus in Rotherham.'