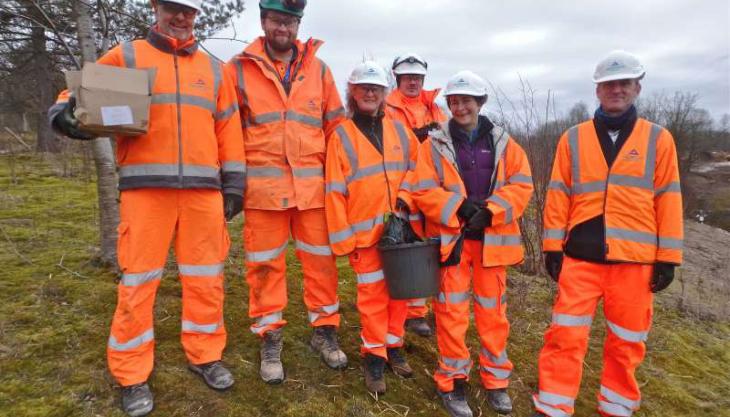 Aggregate Industries sow the seed to assist endangered pollinator species in latest wildlife project
AS part of their commitment to managing biodiversity, Aggregate Industries have partnered with Butterfly Conservation and Cumbria Wildlife Trust, to create improved habitats for endangered pollinator species at their Back Lane and Holme Park Fell quarries in Carnforth, Lancashire.
Once a staple of British spring and summertime, recent years have seen a dramatic decline in pollinator species, such as bees and butterflies, with some of the rarest species now nearing extinction.
It is estimated that some wild bee species suffered a 32% population decline in the UK between 2002 and 2011, and more than three-quarters of Britain's 59 butterfly species have declined over the last 40 years.
As part of the company's continued work with Butterfly Conservation, a British charity devoted to saving butterflies, moths and their habitats throughout the UK, this spring saw Aggregate Industries take action to help reduce this decline at two of their northern quarries.
Working with the charity and Cumbria Wildlife Trust, the company identified and mapped out a plan to vastly enhance its existing pollinator banks at Back Lane and Holme Park Fell by adding plants and seed, and cutting away scrub, in a bid to make the quarries as 'pollinator friendly' as possible and attract an ever wider range of species.
During the course of Aggregate Industries' 'wildflower day' numerous team members and volunteers from Butterfly Conservation came together to plant various different plants and seeds across both sites.
Significantly, the activity undertaken so far has cost Aggregate Industries just over £300, covering the cost of plants and seeds, but will have a dramatic positive effect on local species – testament to the fact conservation success does not have to cost a fortune.
Phil Jackson, biodiversity and restoration advisor (North) at Aggregate Industries, said: 'We are committed to managing the impact on nature within our industry and ensuring that biodiversity is protected and enhanced, where practicable, throughout our operations. It is vital that we build and improve on this as we look to achieve positive change for biodiversity.
'We believe that our improved pollinator banks at Back Lane and Holme Park quarries is a positive step towards this and we look forward to welcoming even more species in the coming weeks.'
This latest activity will be followed by subsequent monitoring visits to both quarries to ascertain plant establishment and the level of pollinators and butterflies, with plans for further enhancements later in the year.
Martin Wain, conservation officer at Butterfly Conservation, added: 'It's great to see Aggregate Industries so genuinely interested in pollinator conservation and we have been delighted to work with them.
'These two quarries are in one of the UK's hot spots for rare and threatened butterflies and moths, but with the help of the company we believe that we can work to reverse the declines of these species.
'We had a great day planting plug plants with the staff from the quarry – our volunteers really enjoy working in this exciting and dramatic environment. We look forward to seeing the fruits of all this labour as we continue to work with Aggregate Industries at both quarries.'