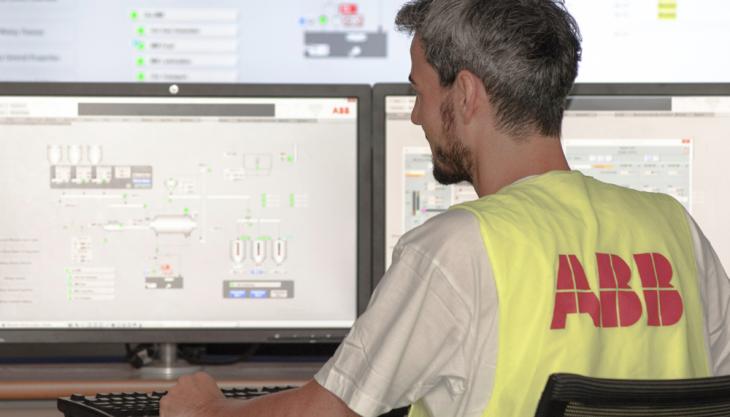 Latest version expands plant operators' ability to monitor and control safe production through direct object linking
ABB have released System 800xA Minerals Library 6.0/0 – a new version of their proven process control system library with added functionalities for advanced analog loop control, further facilitating the engineering processes and widening the scope of visible information to improve the situation awareness for operators. 
'This solution update focuses on improving the operator's ability to monitor, analyze and efficiently control safe production,' said Eduardo Gallestey, global technology manager for ABB. 
'The next generation of Minerals Library builds upon our long history of helping our customers use the latest technology and tools to optimize their operations. Leading global mining and cement companies have relied on this software solution for more than 15 years as a key element of their plant operation to reduce downtime and maximize production performance.'
The latest Minerals Library 6.0/0 features:
With a new loop control connection (LCC), the Minerals Library applies the successful concept of 'intelligent objects talking to each other' to the world of loop control. The consistent linking between objects allows engineers to design complex control concepts with a standardized structured approach. The actual control strategy and dependencies between objects are directly visualized on the operator interface.
LCC is available for all existing loop control blocks as well as for the newly added loop control blocks for actuators, ratio, split-range and adaptive PID (proportional integral derivative) control. These elements deliver powerful out of the box functionalities ready to be used on a broad array of advanced control challenges.
The interlock status viewer provides an improved user interface to support efficient fault-finding and displays more information such as time to trip to enable the transformation from reactive to proactive plant operation.
The group step viewer shows all steps of a group sequence in a format easy to understand by operators. It raises awareness of potential changes in the process before starting a group sequence.
The detailed status viewer for engineers and maintenance teams provides an innovative view that shows a global, functional representation of the process, all in the same chart, helping to provide information needed for quick analysis and action to resolve issues.
Successfully operating in more than 450 cement and mining sites worldwide, ABB's System 800xA Minerals Library is a suite of object-oriented software control modules designed to increase standardization, functionality and quality of process control software over the complete life cycle of a production facility.