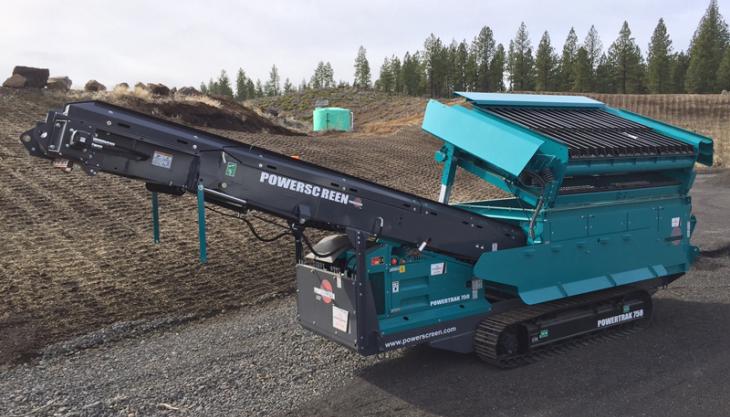 London waste-management firm turns to Blue Machinery for new recycling plant
O'DONOVAN Waste Disposal have recently purchased three very different types of plant to further enhance their waste processing and recycling capabilities. O'Donovan approached Blue Machinery London for their expertise and last year became recipients of a Powerscreen Powertrak 750 mobile screener, a Doppstadt DW-3060K mobile shredder and a Marathon 250 two-ram baling press (equipped with a BlueMAC feeder).
The Powertrak 750 is a high-capacity mobile screener with a potential output of up to 600 tonnes/h, depending on the application and screen media used. According to suppliers Blue Machinery, the mobile screen can handle the toughest scalping tasks and its lively screening action delivers high performance in fine screening applications, processing materials such as crusher run and topsoil. 
Quick set-up times, compact dimensions to facilitate transportation, maximum mobility on site and user-friendly operation and maintenance have all contributed towards the success and popularity of the Powertrak 750 in contracting, quarrying and recycling applications. 
The crawler-mounted Doppstadt DW-3060K heavy-duty shredder is designed to handle large bulk timber and wood waste, mixed construction waste and industrial refuse. The single-shaft shredder has numerous key features, including: optimum roller and comb teeth arrangements which ensure comprehensive shredding of the feed material; reversible fan wheel; generous hopper shape and size for easy loading; electrically controlled roller reversing; and a large return conveyor. 
Commenting on the company's newly acquired machinery, managing director Jacqueline O'Donovan said: 'We certainly did our due diligence on the equipment available in the marketplace but it was the build quality and efficiency that helped us to make the obvious choice. We also have a long-standing and strong relationship with the team at Blue London and their sales director, Barry O'Regan.'