Monthly bulletin: Scotland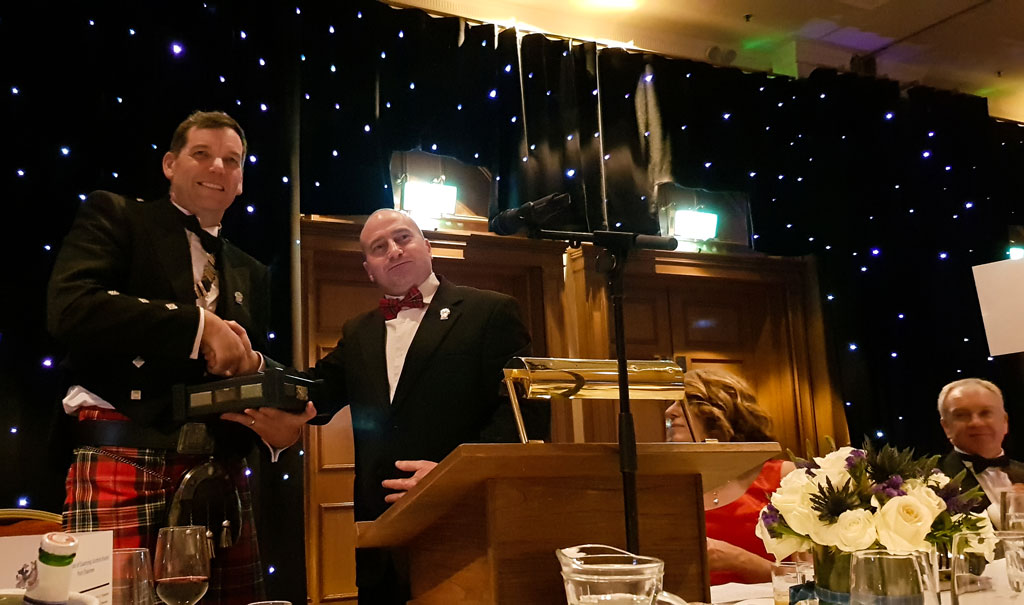 The Scottish branch of the Institute of Quarrying (IQ) ended 2018 on a high, winning the coveted President's Branch Trophy for the first time in its history. With just one branch covering a staggering 31,000 square miles, the enthusiastic application and effort in its promotion of quarrying, despite geographical challenges, impressed the panel of IQ board members.
Andrew Gillon, IQ Scottish Branch Chairman, accompanied Ian Christie, Secretary, and Anne Smith, Treasurer, to receive the trophy from Phil Redmond, IQ President, at the IQ Fellows Lunch held in the Tower of London.
Andrew Gillon says: "Our branch members were overwhelmed at winning what we see as recognition for 'branch of the year'. We arranged for the Trophy to be re-presented at the Scottish Branch Dinner Dance in December by previous IQ president, Miles Watkins, so that more than 360 attendees could raise a glass to this fantastic achievement.
"Similar to many other branches, one of the biggest challenges we face is attracting young people into the industry and encouraging greater diversity. Our involvement with the University of Strathclyde's 'Engineering the Future for Girls' summer programme, in partnership with BAM Ritchies and Aggregate Industries, was the standout moment. The highlight of the week was more than 100 female secondary school students experiencing a live on-site blast at Duntilland Quarry, which we hope will inspire many to consider quarrying as a future career.
"The President's Branch trophy is recognition for all our members of the great work we do here north of the border. It can be a real challenge getting together, given the sheer size of the country, so we've embraced new web-based conferencing technologies to remove physical barriers to bring us closer together.
"Now that we've broken our duck, we'll be working hard to retain the trophy next year so keep an eye out for news of the work we're doing over coming months."
Phil Redmond adds: "Congratulations to the Scottish Branch; the judges were extremely impressed with your application and your hard work has been duly recognised.
"The President's Branch Trophy was this year based on four key objectives of the Institute. The Scottish Branch demonstrated great consistency in building relationships and engaging with their local communities, especially in the area of encouraging diversity in future generations joining the industry. They also progressed the furthest in developing the capability to marry face-to-face meetings with online engagement for members."
The President's Trophy is awarded to the IQ branch that strongly demonstrates the promotion of continuing professional development (CPD) activities, engagement with younger members, interaction with other organisations, and the introduction of innovation.
For any members in Scotland looking to get involved with their local branch, to find out more about the above events or register an interest, contact:
Chairman
Andrew Gillon
andy.gillon@solway-precast.co.uk / 07976 340 361
Vice Chairman
Ian Christie
ian.christie@bamritchies.co.uk / 07774 989 072
For more information visit: www.quarrying.org/members/branches