Monthly bulletin: Derbyshire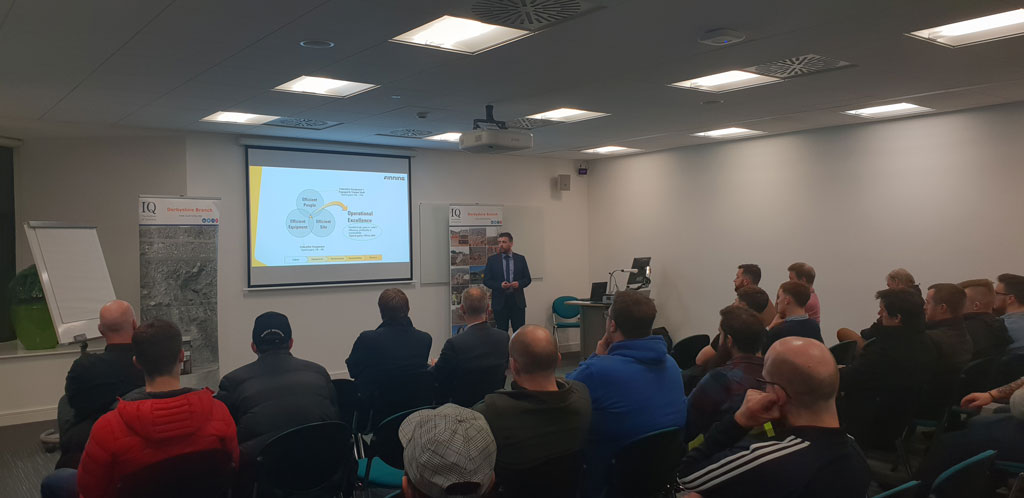 For many members of the Institute of Quarrying (IQ), one of the main benefits is networking with industry professionals at local branch events, with the value of sharing knowledge, experiences and advice second to none.
Earlier this month, Derbyshire hosted a tutorial evening for Year One apprentices from the University of Derby Centre for Mineral Products. As the future workforce is a generation growing up in the digital era, the event provided insight into how sites are deploying technology to improve productivity with special guest speaker from Finning UK and Ireland.
Greg Wheeler, applications manager for Finning UK and Ireland, said: 'The mineral extractives industry is moving towards efficiency and deploying technology and investing in people and training is helping businesses to reduce carbon emissions, fuel and costs, and above all improve productivity.
'At one of the sites we represent, through operator education and alterations to operations, one machine used 15.1 percent less fuel burn in idle time, resulting in £47,000 saved over a year. It goes to show that if sites are willing to invest then they'll benefit in the long term.'
Greg's presentation - 'Digital Quarry: use of technology to improve site performance and employee engagement through the use of digital technology' - identified what sort of technology Finning UK and Ireland is deploying and how it is impacting the industry.
Connecting quarry machines to apps
In a world surrounded by big data, with everything on an app, Finning UK and Ireland is connecting its machines to an online portal to collect data about the quarry site. This data can be used for bespoke reports which quarry supervisors can use to create manageable KPIs; what machines are doing on a day-to-day basis and how to improve productivity moving forward.
Metrics boards
As part of a continuous improvement environment, some sites looked after by Finning UK and Ireland have had metrics boards installed. Displaying five or six KPIs with data from previous daily production, the KPIs turn red or green to show if the site is above or below target. These are used by operators and supervisors to influence daily production processes going forward.
John McGough, MIQ, commented: 'Sessions like this are an important way for members to learn what's happening in the industry by hearing about what other operators are doing. Technology is such an important area, from the use of drones through to using data to help communicate important KPI's to managers, supervisors and staff. It all helps improve productivity on site.
'This particular event with the first year apprentices at the University of Derby Centre for Mineral Products is also a great way to meet the future leaders of the industry and supports them getting off to a good start in building their own professional networks.'
About Derbyshire and the IQ Branch
For many years, Derbyshire has been one of the country's largest mineral producers. The most significant mineral extracted in Derbyshire is limestone, with workings providing 20 percent of England's production. It is the home of Tunstead Quarry, the largest supplier of lime and lime-based products in the UK, internationally renowned Hillhead exhibition, as well as the University of Derby's dedicated Centre for Mineral Products.
In terms of the total number of members, Derbyshire is the second largest branch of the Institute of Quarrying. That means in an area covering 1014 SqM, there is approximately an IQ member every 2.66 SqM!
Upcoming Events:
27th February: Fuel for Thought, Liquid Management Solutions
27th March: HSE Hot Topics, HSE
24th April: AGM and Quiz
For any members in Derbyshire looking to get involved with their local branch, to find out more about events or register an interest, contact:
Chairman
John McGough MIQ
jhmcgough@yahoo.co.uk / 07972 717 279
Vice Chairman
Patrick Bowles
patrick.bowles@mpawards.co.uk
Secretary
John Hattersley MIQ
john.hattersley@me.com / 07806 708 542
For more information visit: www.quarrying.org/members/branches