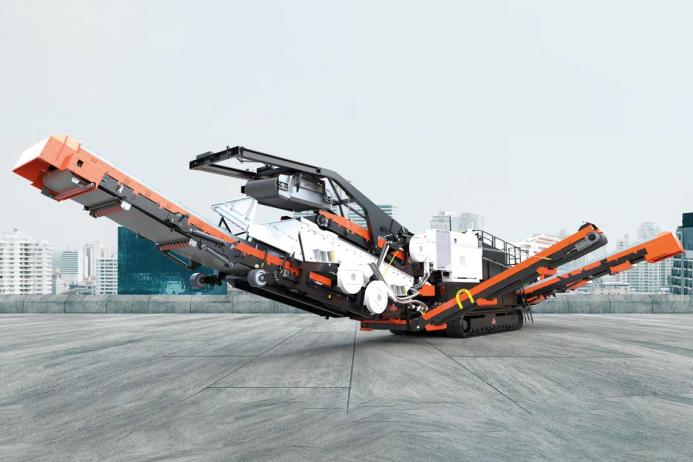 GRS Integrated Solutions Ltd offers a complete end-to-end materials handling service from the supply of aggregates at any volume to the excavation and recovery of waste for recycling. The company also delivers a range of contracting services to the construction industry including groundworks, civil engineering and land remediation.
Over the last eight months, GRS has received two Tesab machines and ordered a bespoke 7-figure GIPO machine scheduled for delivery next month (October) from Agg-Pro, who are specialists in supplying equipment for the quarrying, demolition and recycling industries.
Working closely together, Ross Rolfe, Operations Director at GRS and Jonny McNaugher, Area Sales Manager at Agg-Pro, identified the best fitting machinery for  the business.
The first two Tesab machines ensured minimal downtime and kept GRS and their customers happy, meaning GRS had the confidence to proceed with the order for a bespoke GIPO machine. A more cost-effective alternative incorporating a three-machine set-up to try and achieve the same job was discussed but wouldn't have reached the tonnage levels required. As part of Agg-Pro's solutions-based approach, Jonny took Ross on several site visits to show him the machines in action and they identified that the addition  of the new GIPO R131FDR Demolition Spec Impact Crusher would replace two  existing processing units and associated heavy plant.
It will pre-screen, crush, grade the material and clean up any contaminants within it, which is shovel fed by one operative, reducing their fuel bill significantly and producing a more desirable product.
Capable of producing approx 350TPH of clean type one material, its features include a 1.3m diameter x 1.2m heavy duty impact rotor, demountable double deck recirculating screen, and underpan feeder beneath the chamber to prevent belts ripping. Boasting 85,000kg in weight,  the machine has a Tier 5 EU Compliant Scania Engine.
It also includes optional extras specific to GRS's requirements, in particular the demolition material with metal, rebar and plastic within. A three-step independent 3.5m pre-screen system removes any fines so only clean material enters the impact chamber, and a top mounted in line magnet removes metal in the same direction in which the material is flowing, making it very efficient. In addition, a bespoke air separation system removing plastics, wood and other contaminants again eliminating the need for manual labour and additional operational staff.
The state-of-the-art GIPO machine will be delivered to GRS's central London site in a matter of weeks.
GIPO is a well-established company based in Switzerland. They produce around 80-90 units per year and every machine is bespoke made without compromise. They are very much in favour of building heavier machines of an exceptional build quality, built to last.
Jonny says: "Once Ross and his colleagues set eyes on a GIPO machine, they appreciated the quality and bespoke nature of the design. We are excited about building a long-term relationship with GRS and look forward to continuing to work together."
After more than 25 years in the business, Agg-Pro are market leaders in providing an extensive range of crushers, screeners, stackers, shredders, fixed recycling plants, and washing systems to the quarrying, demolition and recycling industries.
Agg-Pro sources the best performing and highest quality products from industry leading brands including GIPO, Jonsson, McCloskey, Lippmann, Tesab, McCloskey Environmental, CRS NI, and MWS in England, Wales and Scotland.
Its Head Office in Tamworth includes a 40,000 sq ft workshop and two storage yards with a team of skilled on-site engineers to offer refurbishments, and the company employs 34 people. Thanks to their exclusive manufacturer partnerships, Agg-Pro also stocks an extensive range of genuine spare parts.
The company is proud of its reputation for excellent customer service and the highly experienced team offer innovative solutions from Agg-Pro's extensive portfolio creating long-standing and collaborative partnerships with customers.
Contact the team at Agg-Pro on 01827 280139 or sales@agg-pro.com to discuss your requirements.
 "We are excited about building a long-term relationship with GRS and look forward to continuing to work together." 
Jonny McNaugher, Area Sales Manager at Agg-Pro