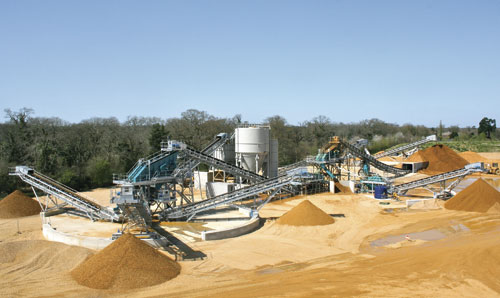 Major plant upgrade boosts production capacity for Hampshire sand and gravel quarry
Located some three miles north-west of Ringwood, in Hampshire, Blashford Quarry lies within the 7,000 acres of rolling farmland, woodland and parkland that make up Somerley Estate, seat of the earls of Normanton since 1825 and home to the current custodian, Viscount Somerton, son of the sixth earl. The estate contains substantial reserves of sand and gravel and has provided a valuable source of building materials for the New Forest area and beyond since before World War II.
Tarmac Ltd, the current leaseholders of Blashford Quarry, have operated the site for around 30 years, producing products for the company's on-site bagging plant and for use in Tarmac's ready-mixed concrete plants across the region, as well as for sale to builders' merchants and contractors in the Ringwood–Bournemouth area and along the south coast. At present, extraction operations at Blashford are centred on Nea Farm, where a deep deposit of high-quality, largely silt-free sand with a 10–20% grit content is being worked to an average depth of 5m in dry conditions above the water table. An extensive field conveyor system, which was the subject of a major upgrade during 2006/7, transports the 'as dug' material 2.5km from the extraction site to the processing plant situated adjacent to the A338 Salisbury Road.
With extraction of the Nea Farm deposit due to be completed in around four years time, in 2008 Tarmac successfully secured planning permission for the extraction of a further 6 million tonnes of reserves at Plumley Wood, ensuring the continuation of operations on the Somerley Estate for a period of up to 25 years. At their furthest extent in around 10 years' time, extraction operations at Plumley Wood will reach a point 2.5km beyond the current dig at Nea Farm and approximately 5km (or around one hour's conveyor travel) from the processing plant. Further modifications and additions to the to the site's already extensive field conveyor system are currently being installed to accommodate the move to Plumley Wood.
Moreover, with extraction in this new area scheduled to commence in late summer 2012, four years ago Tarmac identified an opportunity to replace Blashford's former processing plant – comprising a barrel washer, sizing screens and open crushing circuit capable of producing up to 290,000 tonnes per annum – with a more modern, higher-capacity facility. Following a competitive tender process, DUO were selected to supply the new plant and subsequently worked closely with Tarmac over a two-year period to evaluate various options capable of meeting the desired production levels and product quality.
A key factor in DUO being awarded the tender was their ability to achieve the required health, safety and environmental standards set by Tarmac, whose goal is to meet, and where possible exceed, legal health and safety requirements with the aim of achieving their target of Zero Harm. Throughout the tender, design and installation stages, DUO worked closely with Tarmac to minimize the risks to those on site, and to reduce any environmental impacts.
Conveyor upgrade
Six years ago, ahead of the more recent plant developments, Tarmac upgraded Blashford's existing 2.5km field conveyor system to harmonize the drives on the 14 conveyors which make up the system and to increase the handling capacity from 150 to 350 tonnes/h, while providing the additional benefits of improved reliability and reduced maintenance costs. The staged upgrade commenced in January 2006 and was carried out by Worksop-based Canning Conveyor, who were responsible for all design, manufacturing and installation work. 
After extending the face section with a new 120m long x 750mm wide field conveyor, Canning split another existing conveyor and interfaced a new 20m long elevated lattice section with walkway and electrically operated two-way chute. This new section is powered by a ceramic-lagged Canning SuperDrive motorized drive drum, including a Rulmeca jib discharge and high- and low-tension idler pulleys complete with internal sealed-for-life roller bearings, and features a polyurethane primary belt scraper and a tungsten blade secondary scraper.
This upgrade was followed by the modification of a horizontal conveyor, which entailed the incorporation of a new 22m long x 750mm wide elevated transfer conveyor complete with a tail-end loading section. Driven by a 22kW Canning SuperDrive motorized drive drum, this section was fitted with new primary and secondary belt scrapers and an emergency-stop pull-wire system.
Canning completed the upgrade work with a new troughed-belt radial stockpile conveyor complete with walkway assembly and head platform around three sides. Powered by a ceramic-lagged 22kW SuperDrive motorized drive drum, this inclined lattice-frame conveyor is designed to handle up to 250 tonnes/h from the field conveyor. 
In addition, Canning were also responsible for retrofitting SuperDrive units along the entire length of the existing conveyor system. This included 10 ceramic-lagged SuperDrive motorized drive drums along with replacement jib discharge and high- and low-tension bend drums. A total of 34 new non-drive drums were also installed, along with high-density polymer suspended idler sets with polymer safety handles, new primary and secondary belt scrapers, as required, and new heavy-duty mesh guarding where appropriate. Lately, Canning Conveyor have been back on site to carry out the extension of the existing system to Plumley Wood.  
New sand and gravel plant
With groundworks for the new wash plant completed in August 2010, DUO commenced installation work later that year and commissioned the new facility in June 2011. The plant is designed to produce up to 320,000 tonnes per annum of washed, high-quality sand and gravel products comprising sharp sand and 10mm, 20mm and 40mm single sizes, as well as –75mm +40mm crusher bypass. The 250 tonnes/h plant is of modular design and has the facility to crush the gravel, as required, to maximize the production of sand, 10mm and 20mm products in line with demand.
The recently upgraded 2.5km field conveyor delivers the sand and gravel to the processing plant area where a fully galvanized 33m long x 900mm wide radial stockpile conveyor discharges the feed to the main surge pile. Three 7.5kW heavy-duty belt feeders mounted within a 46m long square-section concrete recovery tunnel beneath the surge pile provide a controlled feed on to an 87m long x 900mm wide reclaim/catenary conveyor (100m radius), which reaches a maximum inclination of 18° at its head end.  
The catenary conveyor discharges directly into a Powerscreen 20ft x 6ft double-deck rinsing screen which washes and splits the feed into three sizes: +75mm oversize, which is discharged into a rejects bay; –75mm +5mm; and –5mm sand. The –5mm fraction is directed to an adjacent Finesmaster 120 compact sand plant, which utilizes a hydrocyclone and integral dewatering screen to remove any silts, clays and slime, while up to 90 tonnes/h of clean, dry sharp sand end product is fed to a 2,000-tonne stockpile by a 21m long x 800mm wide radial conveyor. Any excess moisture within the sand stockpile is drawn out by a triple take-off manifold moisture-reduction system supplied and installed by Moisture Reduction Systems Ltd.
Meanwhile, the –75mm +5mm material from the rising screen is fed directly into a Powerscrub 120R log-washer for scrubbing. At this point, any unwanted materials, such as organics, that are mixed in with the feed material are floated off via a 6ft x 2ft trash screen at the rear of the log-washer, while the clean –75mm +5mm material exits the front of the log-washer via an 8ft x 4ft dewatering screen. A 33.5m long x 800mm wide inclined static conveyor delivers the material to a second Powerscreen 20ft x 6ft screen, this time a dry triple-deck version, which splits the material into three final single size fractions (10mm, 20mm, 40mm) and –75mm +40mm oversize.
The 10mm and 20mm single sizes are delivered to their respective 2,000-tonne stockpiles by 21m long x 800mm wide radial stockpile conveyors, while the 40mm product is delivered to a 500-tonne stockpile by a similar sized static stockpile conveyor. Meanwhile, the oversize material is redirected, via a 35.5m long x 800m wide inclined conveyor, to a 20-tonne capacity crusher surge bin.
Crushing circuit
The crusher surge bin allows the –75mm +40mm material to be choke fed, via a Rotex vibratory feeder, into a Sandvik vertical-shaft impactor (VSI) for crushing before being recirculated back to the plant's main feed (catenary) conveyor, via a 37.m long x 800mm wide inclined re-feed conveyor, in a closed-circuit arrangement. Typically, around 20% (approximately 300 tonnes) of total daily production at Blashford passes through the crusher. If necessary, a crusher bypass chute can be opened to allow the –75mm +40mm material to drop from the surge bin into a concrete bay below. 
The CV216 VSI selected for Blashford is part of Sandvik's six-model CV200 series, designed to ensure increased capacity and consistent product shape and size with reduced power consumption and maintenance requirements. Significantly, the crusher's autogenous rock-on-rock crushing technique is said to offer several major advantages in the production of 'manufactured' sand, including a consistently cubical product shape.
For Tarmac, a key benefit of the CV216 is its low environmental impact thanks to Sandvik's patented Bi-Flow system. Used in conjunction with high-performance rotors and wear parts, this system offers an improvement in throughput capacity but with reduced power consumption, thereby delivering electricity cost savings and lowering the site's CO2 emissions per tonne.
The crusher re-feed conveyor, main conveyor, all three single-size product stockpile conveyors and the sand stockpile conveyor are all equipped with Precia Molen belt weighers for accurate production monitoring and control. The entire plant features fully galvanized support structures, while bespoke handrails, designed specifically to meet Tarmac's requirements, surround all walkways and the perimeter of the civils. All of these supporting structures, walkways and handrails were designed and manufactured by DUO's in-house manufacturing division, based in Frome, Somerset.
Water treatment
The sand and gravel washing system at Blashford is supported by a DUO water-treatment system comprising a 7m diameter deep-cone thickener tank, 3.5m diameter clarified water tank, flocculent dosing system and all the necessary ancillary equipment. 
Waste water from the rinsing screen, log-washer and dewatering screen is pumped, via the sand plant and ground sump, to the deep-cone thickener tank where it is mixed with a flocculent solution. The system's automated flocculent preparation and dosing operation is controlled by a PLC housed in the flocculent cabin, which was installed complete with internal heating and lighting.
The use of a 'deep cone' thickener tank design eliminates the need for an internal rake system and any its associated drive mechanisms, thereby minimizing the risk of downtime and reducing maintenance costs as no moving parts are involved.
Thickened sludge is pumped to the site's silt lagoon while clarified water weirs over the top of the thickener tank and is collected in a 100m3 capacity corrugated steel storage tank equipped with 'high/low' sensors, ready to be reused in the washing plant.
Overall, the new sand and gravel plant not only provides a greater production capacity than its predecessor, it also gives Tarmac much more control and flexibility over production, allowing the company to produce more of the products that are in greatest demand, rather than being limited to what naturally occurs in the deposit. 
In a recent further development at Blashford, a new DUO washing plant is currently being commissioned at Burnt Hill, a former extraction site located between Nea Farm and the new Plumley Wood extension. This 'intermediate' wash plant will remove the bulk of the silts from the 'as dug' Plumley Wood deposit, thereby providing a cleaner feed to the main processing plant, while the waste silts and fines themselves will be used to raise and reinstate ground levels after sand extraction in the new extension, as part of the progressive restoration of the site. Further details about this latest development will be reported in a future edition of Quarry Management. 
Acknowledgement
The editor wishes to thank Tarmac Ltd for permission to visit the site and, in particular, Richard Bedford, unit manager, and Matt Walters of DUO (Europe) plc, for their help in preparing this report.